Lemon meringue roulade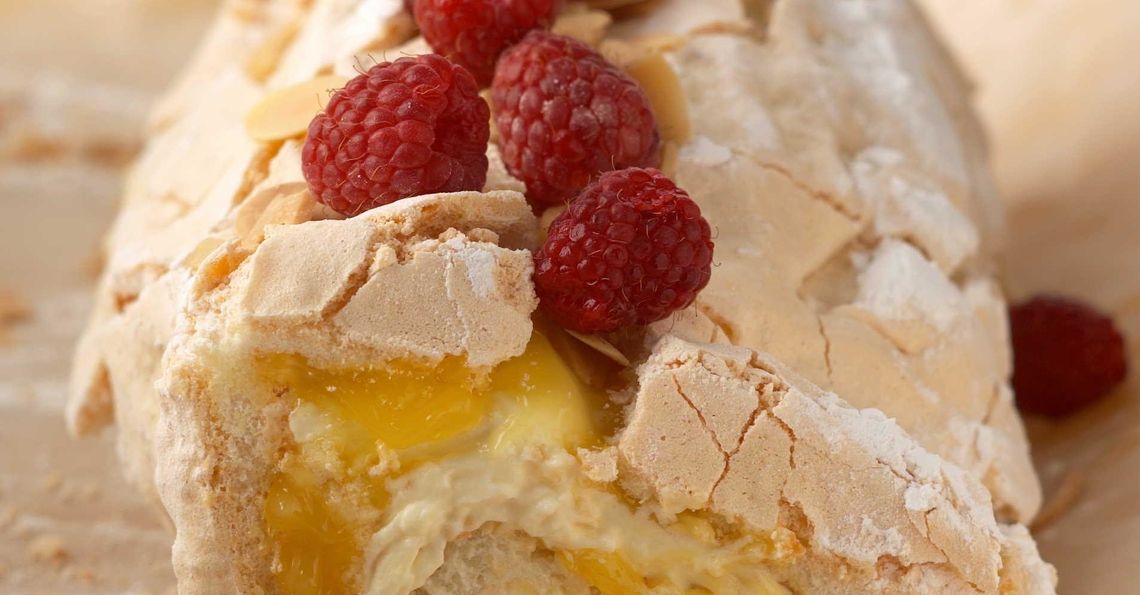 Serves: 8
Prep: 15 mins
Cook: 30 mins
Finish your dinner party in style with this delicious and impressive dessert.
Ingredients
4 medium British Lion egg whites
225g/8oz caster sugar
1 tsp almond essence
1 tsp raspberry or white wine vinegar
50g/2oz ground almonds
1-2 tbsp icing sugar, sifted
6 tbsp lemon curd
300ml/1/2pt crème fraiche
1 tbsp toasted flaked almonds
A few fresh raspberries to decorate
Raspberry or mango coulis to serve
Method
Preheat the oven to 170C/325F/Gas Mark 3, 10 minutes before baking. Line a Swiss roll tin with a single sheet of greaseproof or baking paper and reserve.
Whisk the egg whites until stiff and standing in peaks then gradually whisk in the sugar 1 spoonful at a time. When all the sugar has been added, carefully stir in the almond essence, vinegar and then the ground almonds. Mix lightly together.
Turn into the lined Swiss roll tin smooth the top and tap the tin lightly on the work surface to remove any air bubbles. Bake in the preheated oven for 30-35 minutes or until the top is pale golden and feels firm and set. Remove from the oven and leave until cold.
When ready to serve, whip the crème fraiche until thick, reserve. Invert the cooled roulade onto a large sheet of greaseproof or baking paper, sprinkle with the icing sugar and carefully strip off the lining paper. Spread with the lemon curd and then the crème fraiche. Leave for a few minutes to allow the roulade to soften then carefully roll up. (You will find that the roulade cracks slightly on rolling.)
Place on a serving platter, sprinkle with the toasted almonds and decorate with the raspberries and serve.
Click on the stars to rate this recipe: