MOB Kitchen's leftover naan croque madame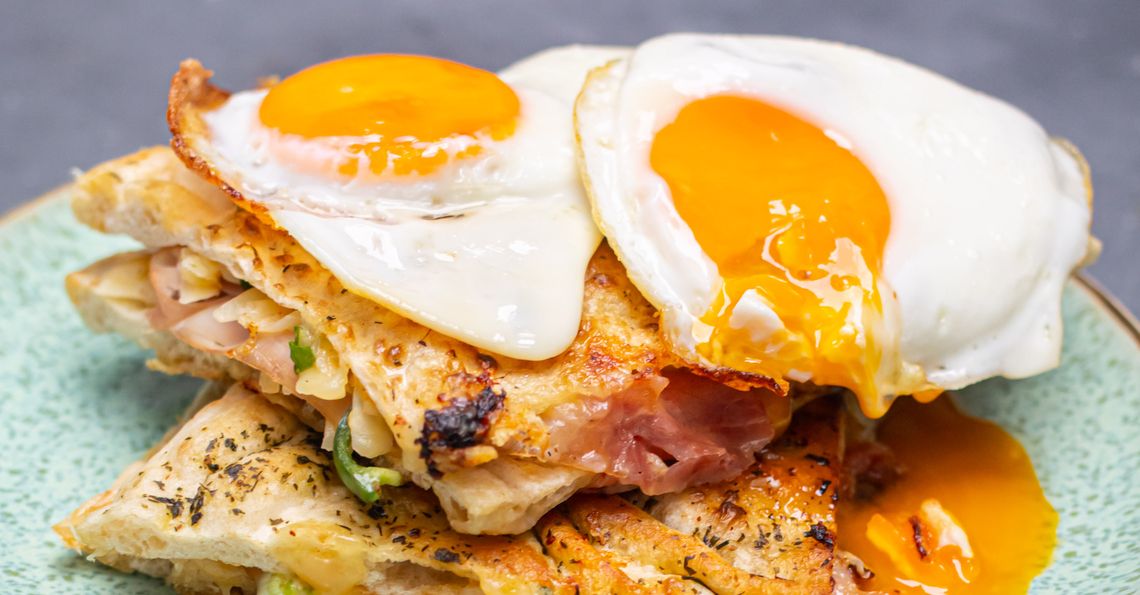 The ultimate breakfast hack to use up leftover naan from yesterday's takeaway. Topped with a perfectly runny British Lion egg yolk. You don't want to miss out on this.
Ingredients
2 spring onions
1 green chilli
100g Cheddar cheese
1 leftover naan bread
2 tsp leftover mango chutney
50g ham
A knob of butter
4 British Lion eggs
Olive oil
Method
Finely chop the spring onions and green chilli. Grate the cheddar cheese and cut the naan into four equal pieces.
Spread the mango chutney onto two pieces of naan and sprinkle on half your cheese. Add the spring onions, green chilli and ham on top, then finish with the remaining cheese. Close the sandwich with the remaining pieces of naan.
Heat up a frying pan and melt a knob of butter.
Gently heat the sandwiches for 3 mins on either side until the cheese has melted. Take them off the heat and put them aside.
Add a big glug of oil into the frying pan and fry 4 eggs for British Lion 3 mins, until the whites are set but the yolks are still soft.
Serve the sandwiches with the fried eggs on top and enjoy.
Click on the stars to rate this recipe: