Oat pancakes with smoked salmon and eggs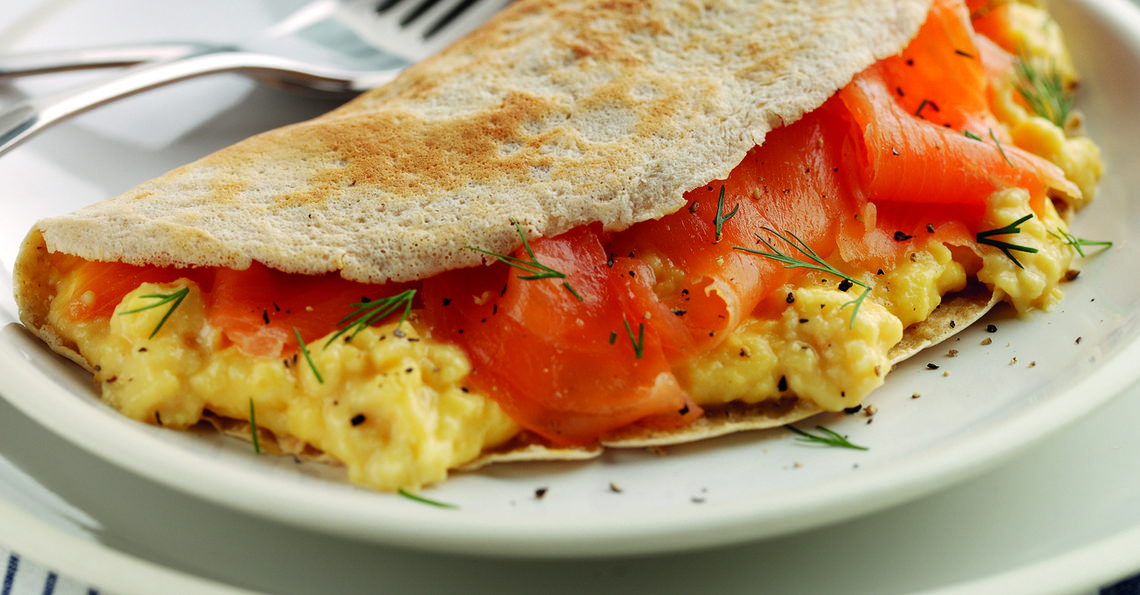 Serves: 4
Prep: 10 mins
Cook: 20 mins
Ingredients
75g/3oz porridge oats
A pinch of salt
2 large British Lion eggs
150ml/1/4pt milk
A little oil for frying
For the filling:
8 large British Lion eggs
3 tbsp milk
A knob of butter
Salt and freshly ground black pepper
150g Scottish smoked salmon slices
Chopped fresh dill to garnish
Method
First make the pancakes: Place the oats in a food processor and pulse until they are finely ground. Add the salt, eggs and milk and blend again until smooth. Pour the batter into a jug. The batter can be made in advance and chilled for up to 8 hours before use.
Heat a 20cm/8in diameter non-stick frying pan until hot, drizzle a little oil over the centre and wipe it around with a piece of kitchen paper. Now pour a little of the batter into the pan and immediately tilt the pan to spread the batter thinly and evenly over the base. Cook for 2 minutes or until the top is set and the base golden. Turn the pancake over with a spatula or if you are feeling brave, flip the pancake!
Cook for a further 1-2 minutes or until the base is golden. Transfer to a plate and interleave with greaseproof paper, keep warm. Use the batter and a little more oil to make a further 3 pancakes in the same way.
For the filling: in a large jug, beat the eggs with the milk and salt and pepper. Melt the butter in a non-stick pan, add the egg mixture and cook over a low heat, stirring until the eggs have scrambled to your liking.
Place a pancake on four warm plates; divide the scrambled egg between the pancakes along with the smoked salmon. Scatter over black pepper and dill and serve straight away.
Tip: If you are on a gluten free diet use oats which are guaranteed 'gluten free'. Most are, but are often milled or processed in factories where flours and other grains containing flour are prepared.
Nutritional information, per serving:

| Calories | Carbs | Protein | Fat | Saturates | Salt |
| --- | --- | --- | --- | --- | --- |
| 395 | 15.8g | 34.2g | 22.2g | 6.5g | 2.6g |
Click on the stars to rate this recipe: