Pasta with bacon and eggs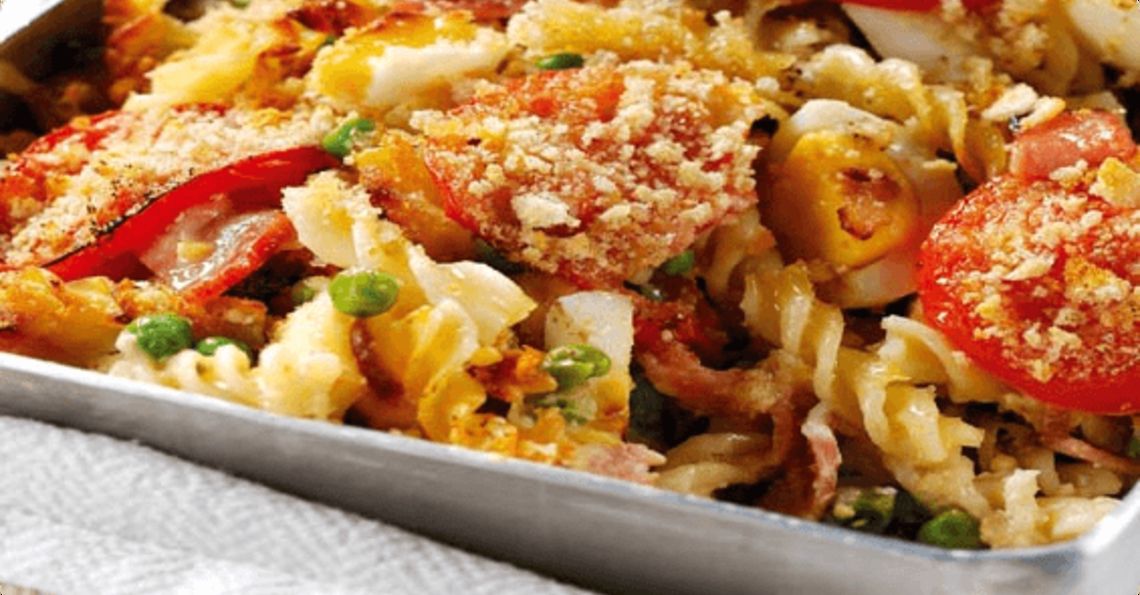 Serves: 12
Prep: 15 mins
Cook: 45 mins
Pasta with bacon and eggs makes a tasty and satisfying meal, sure to please all the family.
Ingredients
2 tbsp vegetable oil
2 onions, chopped
300g back bacon, chopped
500g pasta twists
12 medium British Lion eggs
300g frozen peas
600ml milk
300g grated cheddar
4 tomatoes, sliced
50g breadcrumbs
Method
Preheat the oven to 200C/400F/Gas Mark 6.  Heat the oil in a large pan, add the onions and fry for 4 minutes until soft.  Add the bacon and continue to fry for about 6 minutes until the bacon is a pale golden colour.  Remove from the heat and stir in the peas. 
Meanwhile, cook the pasta in boiling water for 10 minutes or until the pasta is tender.  Drain.  Place the eggs in a large pan, cover with cold water and slowly bring to the boil.  Boil for 7 minutes.  Drain, rinse in cold water, tap and peel off the shells.  Roughly chop the eggs.
Mix the pasta, bacon mixture and eggs together, then stir in the peas, milk and half the cheddar.  Spoon the mixture into a large roasting tin; top with the tomatoes, remaining cheese and breadcrumbs.  Bake for 20 minutes, or until the top is golden brown.  Serve hot.
Click on the stars to rate this recipe: