Poached egg and cod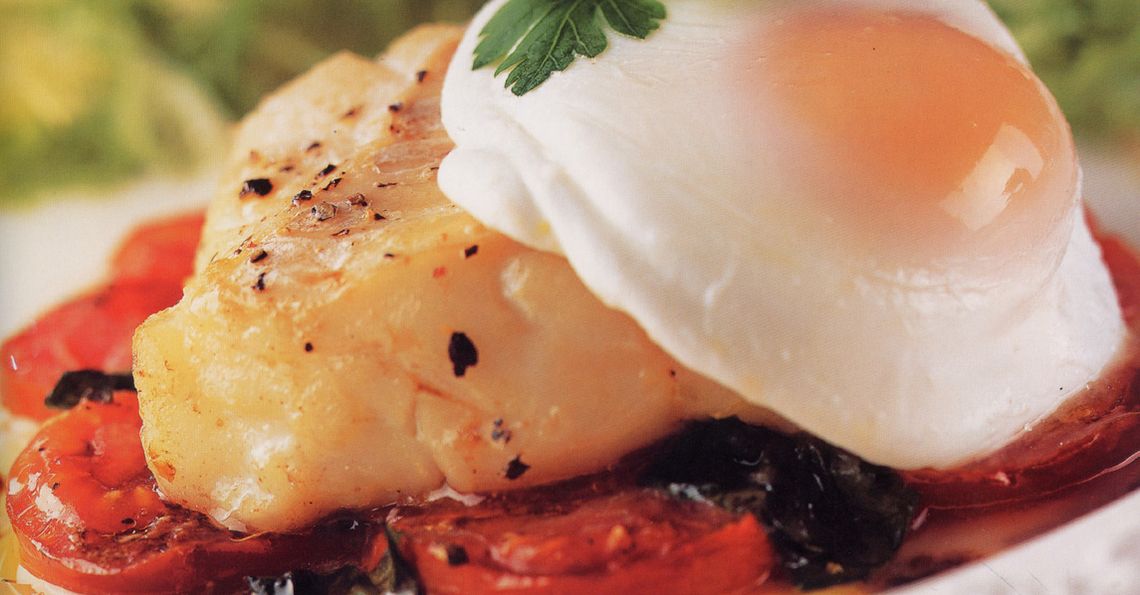 Serves: 2
Prep: 10 mins
Cook: 10 mins
Delicious light and simple, this poached egg and cod recipe is packed with protein and is guaranteed to be a hit at family meals and lunches. With sliced tomatoes, herbs and a dash of white wine (or vinegar) this dish is best served with mashed potatoes, green beans or salad.
Ingredients
4 plum tomatoes, sliced
12 fresh basil leaves
1 tbsp balsamic vinegar
2 tbsp virgin olive oil
2 (150g/5oz) thick fillets of fresh cod, skinned
1 tbsp white wine or tarragon vinegar
2 large British Lion eggs
sprigs fresh parsley, to garnish
freshly ground black pepper
Method
Preheat the oven to 200°C/400°F/Gas 6. Arrange the tomatoes and basil leaves in two rectangles, slightly larger than the fish fillets, in a lightly oiled, small ovenproof dish. Season with a dash of balsamic vinegar and ground black pepper. Drizzle with a little oil and top the tomatoes with the cod.
Season the fish with balsamic vinegar and black pepper and drizzle with remaining oil. Bake for 10 minutes. While the fish is cooking, prepare the eggs.
Fill a small non-stick frying pan with 2cm/d"0 cold water and bring to a gentle simmer over a low heat. Add the white wine or tarragon vinegar then gently break in the eggs. Poach for 4-5 minutes until just firm, spooning hot water over the eggs occasionally as they cook.
Remove the fish from the oven and set on two warmed plates. Top with poached eggs and garnish with parsley. Serve with mashed potatoes and green beans or salad.
Nutritional information, per serving:

| Calories | Carbs | Protein | Fat | Saturates | Salt |
| --- | --- | --- | --- | --- | --- |
| 355 | 9.5g | 37.1g | 18.4g | 3.5g | 0.5g |
Click on the stars to rate this recipe: