Tom Daley's poached egg bowl with spinach and tomato salad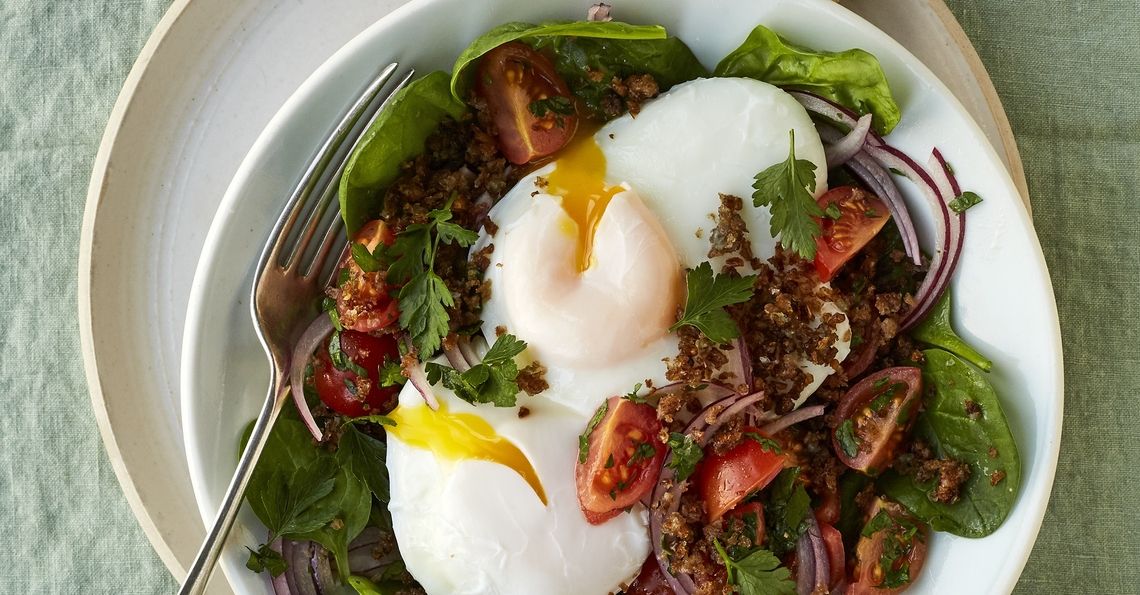 Serves: 1
Prep: 10 mins
Cook: 10 mins
Ingredients
120g cherry tomatoes
1/2 small red onion
1 tbsp parsley (flat leaf or curly)
2 large British Lion eggs
1/2 tbsp olive oil, plus extra for toasting the rye bread crumbs
1/2 tbsp red wine vinegar
1 garlic clove, crushed
1/2 slice rye bread, torn into very small pieces
30g baby spinach, washed
Salt and pepper
1 slice of rye bread, toasted
Method
Cut the cherry tomatoes into quarters. Finely slice the red onion. Roughly chop the parsley. Mix together with 1/2 tbsp olive oil and the red wine vinegar, season with salt and pepper and set aside.
Mix the crushed garlic with the rye bread crumbs. Heat 1-2 tsp olive oil in a frying pan over a medium heat. Once hot, add the garlic and rye crumbs, season and toast for 2 minutes until crispy and fragrant. Set aside.
Bring a saucepan of water to the boil, turn down the heat to a gentle simmer and slowly crack the eggs in, one at a time. Simmer for 2 minutes exactly. Remove with a slotted spoon and drain on kitchen paper.
Put the baby spinach into the bottom of a bowl, top with most of the tomato salad, both poached eggs and finish off with the remaining tomato salad and the garlic rye crumbs. Season again with salt and pepper and eat immediately with a slice of toasted rye bread on the side.
You could substitute boiled eggs for poached eggs, assemble in a tupperware container and take to work for lunch or to the gym for a post workout snack.
Nutritional information, per serving:

| Calories | Carbs | Protein | Fat | Saturates | Salt |
| --- | --- | --- | --- | --- | --- |
| 333 | 24.2g | 20.7g | 17.8g | 4.1g | 1.3g |
Click on the stars to rate this recipe: