Poached eggs in red wine with smoked bacon and onions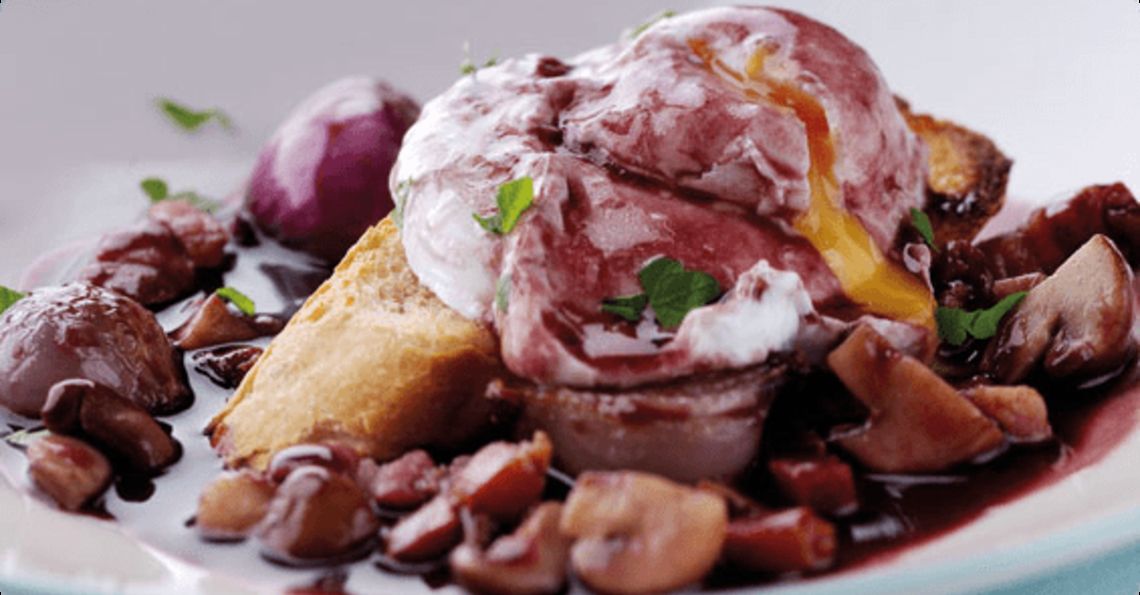 Serves: 4
Prep: 5 mins
Cook: 30 mins
Colourful and delicious, this recipe is perfect for entertaining.
Ingredients
4 British Lion eggs
250ml Port
1 bottle red wine
Sprig thyme
1 bay leaf
400ml beef stock (in liquid form, not stock cubes)
160g smoked bacon, cut into 1 cm cubes
160g button mushrooms, cut in quarters
200g button onions, peeled and halved
4 slices of baguette 1 inch thick
20g plain flour
20g soft unsalted butter
Method
Pour the red wine and port into a very hot pan with the thyme and bay leaf, boil for 10 min and reduce by half. Add the beef stock and boil for 10 min.
While the wine is reducing, fry the onions with a little olive oil in a pan for 5 min until golden. Do the same for the mushrooms and bacon. Drain everything on kitchen paper.
Strain the stock through a sieve into a clean pan to remove the thyme and bay leaf. Crack the eggs into small cups, place the stock on the heat and just before the liquid starts to boil, take a spoon and swirl around the pan to create a whirlpool. Quickly drop the eggs and cook for 3 mins. Remove and place on the kitchen paper.
In a bowl rub the flour into the butter to form a paste. Gradually whisk this paste into the stock in small pieces and boil until it starts to thicken. Add the bacon, mushrooms and onion and cook for 2 mins. Season with salt and pepper.
To serve, toast the bread, place on a plate, put an egg on top and spoon the sauce and garnish over the egg.
Click on the stars to rate this recipe: