Prawn noodle broth with omelette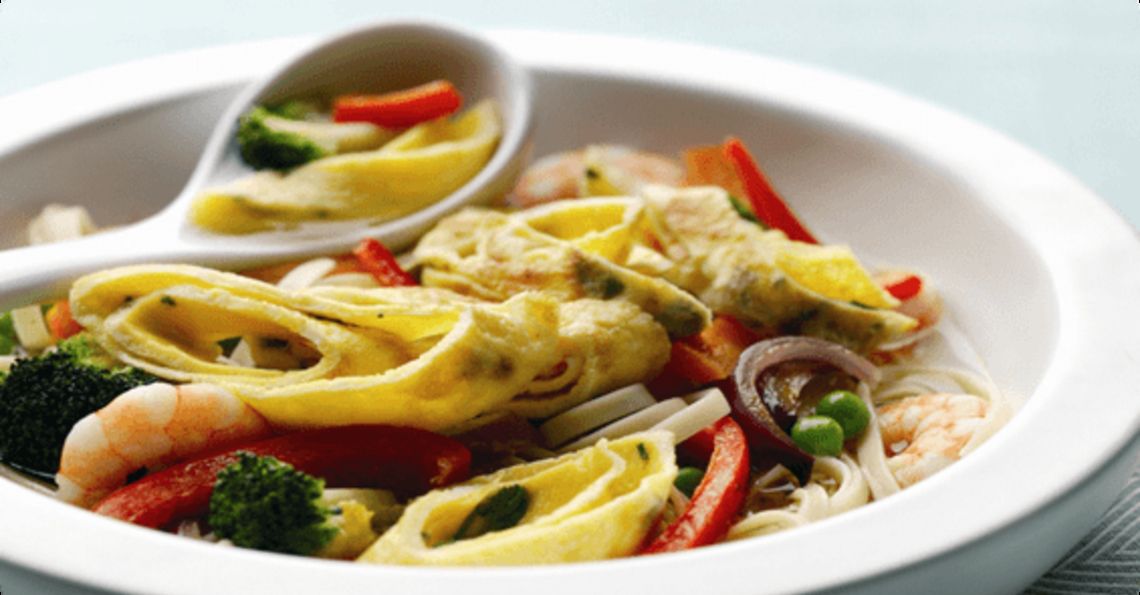 Serves: 2
Prep: 15 mins
Cook: 15 mins
Prawn Noodle Broth with Herb Omelette - an omelette with a difference
Ingredients
1tbsp olive oil
1 small red onion, sliced
½ red pepper, sliced
1 carrot, cut into batons
½ broccoli head, cut into florets and stem chopped
600ml hot chicken stock
100g egg noodles
125g cooked prawns
100g frozen peas, thawed
2 large British Lion eggs
1tbsp each freshly chopped coriander and chives
Method
Heat 2tsp oil in a non-stick wok and fry the onion, pepper, carrot and broccoli for 10 mins. Add a splash of water if the vegetables start to stick.
Push the vegetables to the side of the wok and pour in the stock. Add the noodles, pushing them down into the stock and let the vegetables sit on top or to the side. Stir in the prawns and peas for the last 1 min of cooking time.
Beat the eggs in a bowl and stir in the herbs. Season. Heat the remaining 1tsp oil in a non-stick frying pan and add the egg mixture. Swirl the mixture around to cover the whole base and cook on the heat for around 1 min until all the egg is set. Tip onto a board, roll up and slice.
Divide the noodle broth between two bowls and top each with half the slices of herb omelette. Serve with a splash of soy sauce and sweet chilli sauce.
Click on the stars to rate this recipe: