Japanese omelette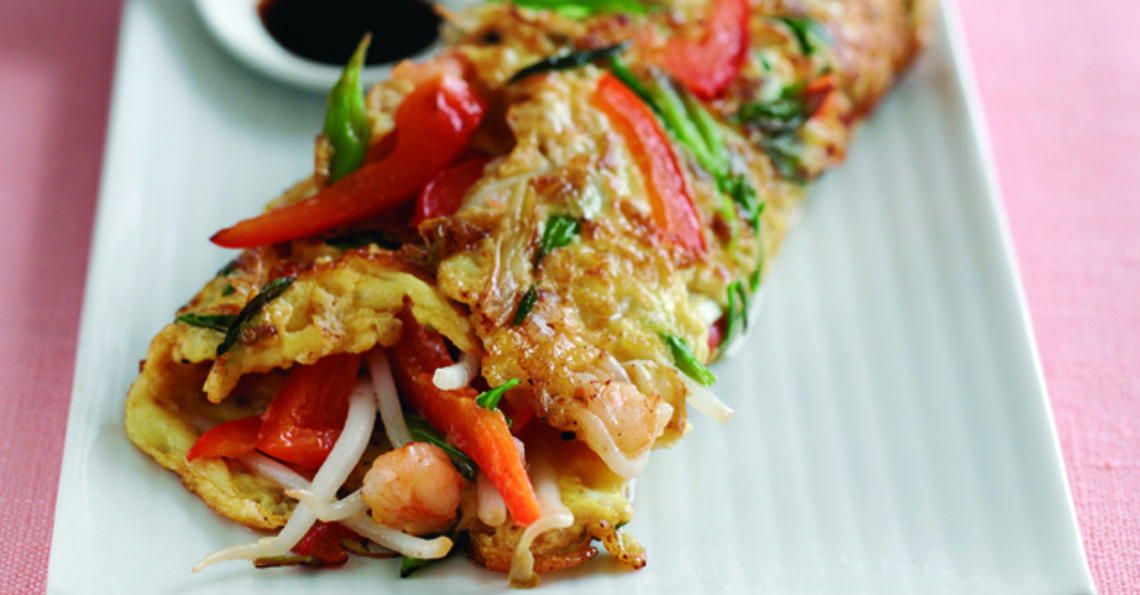 Serves: 2
Prep: 5 mins
Cook: 15 mins
Go oriental and have a go at creating this Japanese omelette which is bursting with great flavours and textures.  Packed with sweet crunchy red peppers, refreshing watery beansprouts, juicy king prawns and sweet Japanese Teriyaki sauce, we know you'll love it.
Ingredients
1 tbsp light olive oil
½ small red pepper, deseeded and thinly sliced
4 spring onions, trimmed and thinly sliced
110g (4oz) beansprouts
25g (1oz) butter
110g (4oz) cooked king prawns roughly chopped
4 British Lion eggs, seasoned and beaten
2–3 tsp Japanese teriyaki sauce
Method
Heat the oil in an omelette pan, add the pepper strips and spring onions and stir-fry for 2–3 minutes, until softened. Add the bean sprouts and heat through for 1 minute. Remove half of the vegetables from the pan and keep warm.
Add half of the butter and half of the prawns to the pan and heat until the butter is sizzling. Pour in half of the beaten eggs, stir until just starting to set, then continue to cook, lifting the omelette edges with a palette knife to allow the uncooked egg to run under.
Sprinkle the omelette with teriyaki sauce, carefully roll it up (with the aid of the palette knife) and turn out onto a warmed plate. Then sprinkle it with a little more teriyaki sauce, if wished, and serve at once. Repeat with the remaining mixture. Serve with a crisp green salad and some crusty bread.
Click on the stars to rate this recipe: