Fluffy omelette with chicken, asparagus & Parmesan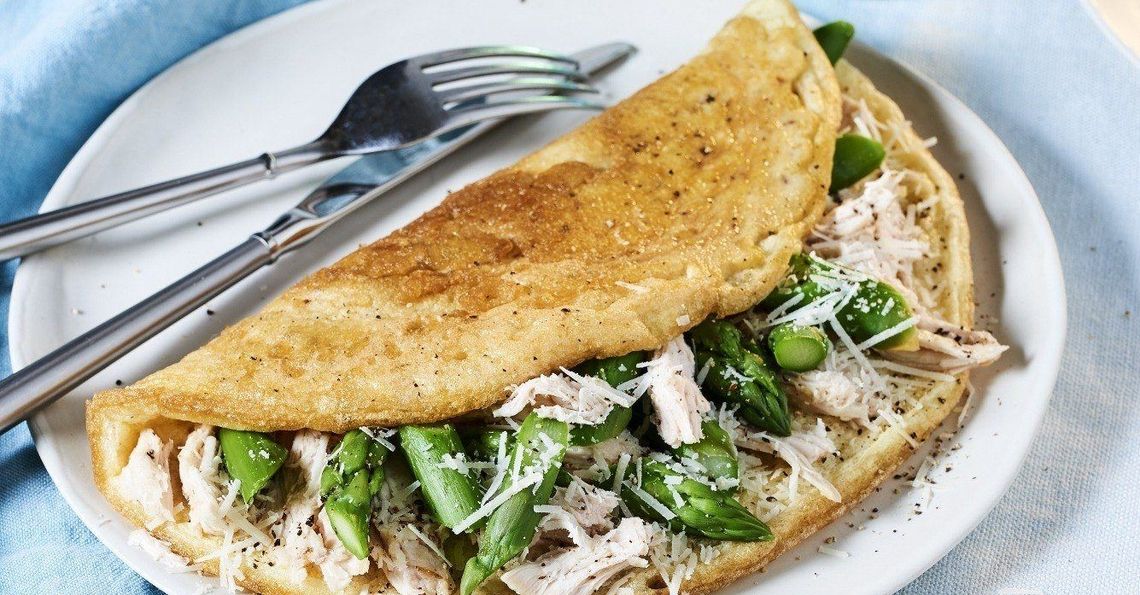 Serves: 1
Prep: 5 mins
Cook: 10 mins
Ingredients
75g asparagus tips
1 tbsp. olive oil
3 British Lion Eggs
75g cooked chicken breast fillet, torn
15g Parmesan, finely grated
Method
Steam the asparagus for 7 minutes, until tender. Cut into 2cm lengths.
Heat the olive oil in a medium, non-stick frying pan over medium heat.
Beat the eggs along with some seasoning using an electric hand whisk until pale, fluffy and doubled in volume, around 1-2 minutes.
Add the eggs to the pan, and cook for 2 minutes, then cover the pan and cook for a further 3 minutes. The bottom should be brown and crisp; the top should still be bubbly and fluffy.
Add the steamed asparagus, chicken breast and Parmesan to the omelette and fold over. Carefully remove the omelette from the pan and enjoy immediately.
Nutritional information, per serving:

| Calories | Carbs | Protein | Fat | Saturates | Salt |
| --- | --- | --- | --- | --- | --- |
| 520 | 1.6g | 49.5g | 35.2g | 9.9g | 1.1g |
Click on the stars to rate this recipe: