Raspberry ripple pancakes with quick compote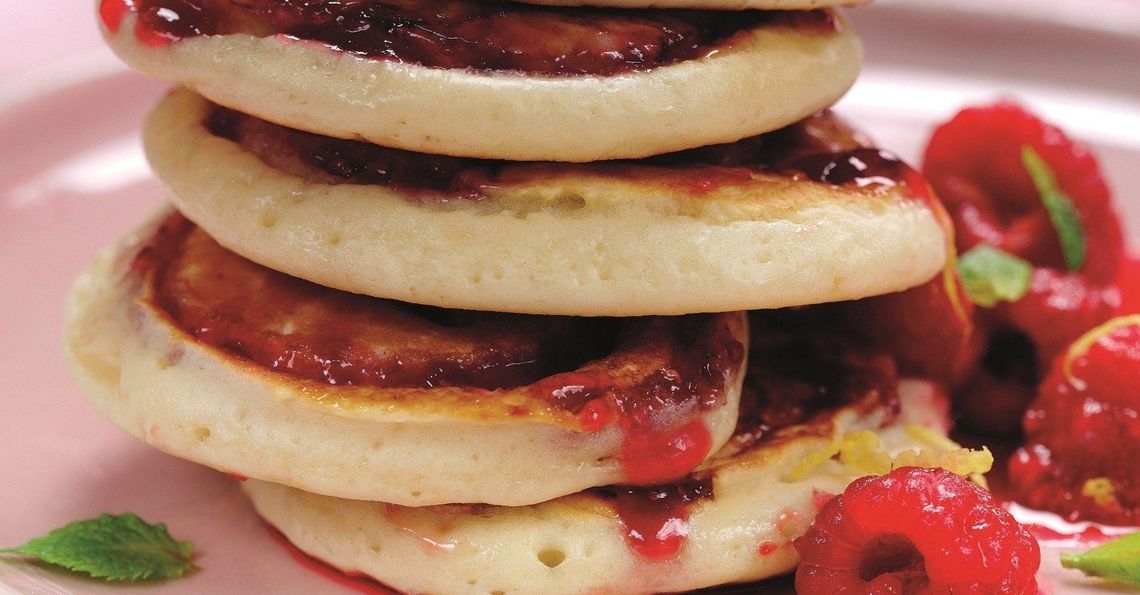 Serves: 4
Prep: 10 mins
Cook: 18 mins
Ingredients
150g plain flour
1 tsp baking powder
2 tbsp caster sugar
150ml milk
1 large British Lion egg, beaten
A little vegetable oil or butter for frying
4 tbsp of raspberry jam, mixed until smooth
400g raspberries
1 tbsp honey
1 tsp vanilla paste or vanilla extract
The zest of 1 lemon
A few mint leaves
Method
Place the flour, sugar and baking powder in a bowl and whisk lightly to break up any lumps of flour. Add the eggs and half of the milk.  Whisk to a smooth batter then whisk in the remaining milk until smooth. Leave to stand for a couple of minutes.
Place the jam in a squeezy bottle or a piping bag.
Make the compote by warming together raspberries, honey, vanilla and half of the lemon zest in a pan until the raspberries start to release their juices.
Heat a large non-stick frying pan on a medium heat. Add a dash of oil then swirl around the pan.
Using a small ladle, add two separate ladles of batter making two pancakes at a time.
Add a swirl of raspberry jam on top of each pancake.
Once bubbles start to appear on the top, turn them over and cook until golden brown. They should rise to about one centimetre thick. Remove from the pan and set to one side.
Repeat with the remaining batter.
Serve stacks of pancakes alongside the raspberry compote with a little extra lemon zest and mint leaves.
Nutritional information, per serving:

| Calories | Carbs | Protein | Fat | Saturates | Salt |
| --- | --- | --- | --- | --- | --- |
| 351 | 75.1g | 8.4g | 4.1g | 1.1g | 0.5g |
Click on the stars to rate this recipe: