Rhiannon Lambert's spinach and avocado scramble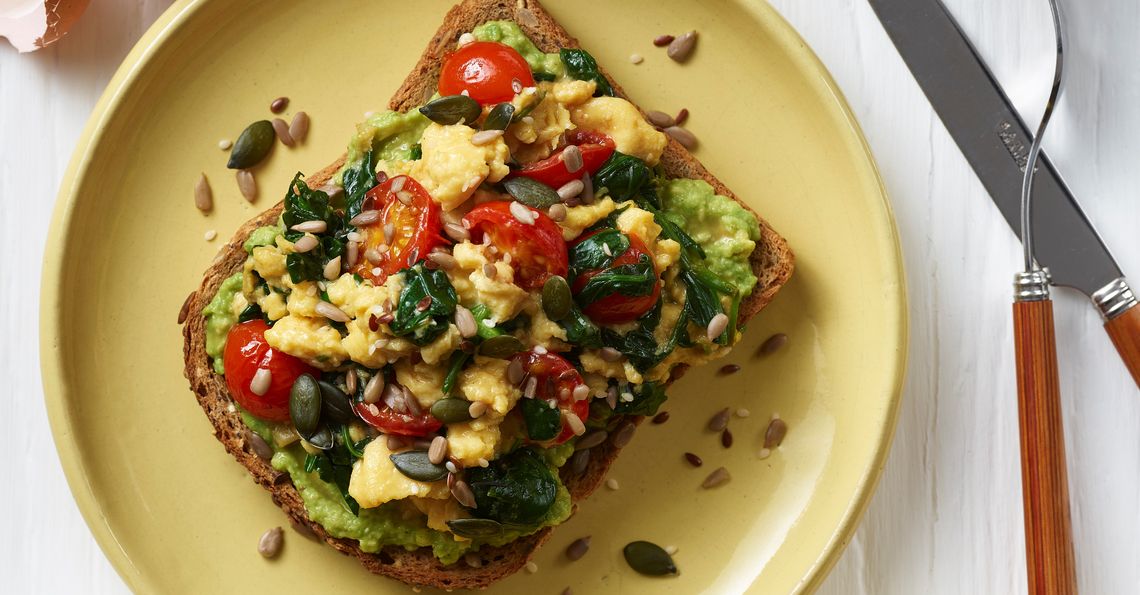 Serves: 2
Prep: 5 mins
Cook: 5 mins
A combination that can do no wrong, Registered Nutritionist and avid foodie Rhiannon Lambert has created a spinach and avocado scramble for a simple and nutritious breakfast that will get you feeling ready to take on the day. Add a little chilli sauce for an extra zing!
Ingredients
8-10 cherry tomatoes
80g bag spinach leaves
1 avocado, skinned and stone removed
Salt and ground black pepper
4 medium British Lion eggs
2 tbsp milk
A drizzle of olive oil
2 slices wholemeal seeded bread
Mixed seeds to serve
A little chilli sauce (optional)
Method
Cut the cherry tomatoes in half and roughly chop the spinach leaves. 
Mash the avocado on a plate and season with salt, pepper and chilli sauce to taste.
 Crack the eggs into a jug, season, then add the milk and beat together with a fork until smooth. 
Heat a non-stick frying pan. Add the oil and tomatoes and sauté over a medium heat for 2-3 minutes or until softened. Push them to one side and add the spinach to the centre of the pan. Cook until the leaves are wilted.
Push the spinach to the edges of the pan and pour in the egg mixture. Cook over a low heat, stirring the eggs until they are scrambled to your liking. 
Once it is set, remove from the heat and gently fold the eggs together with the tomatoes and spinach. Set aside.
On two plates, spread the toast with the mashed avocado then top with the scrambled eggs. Scatter with seeds and serve straight away whilst hot.
Click on the stars to rate this recipe: