Smoked salmon and asparagus omelette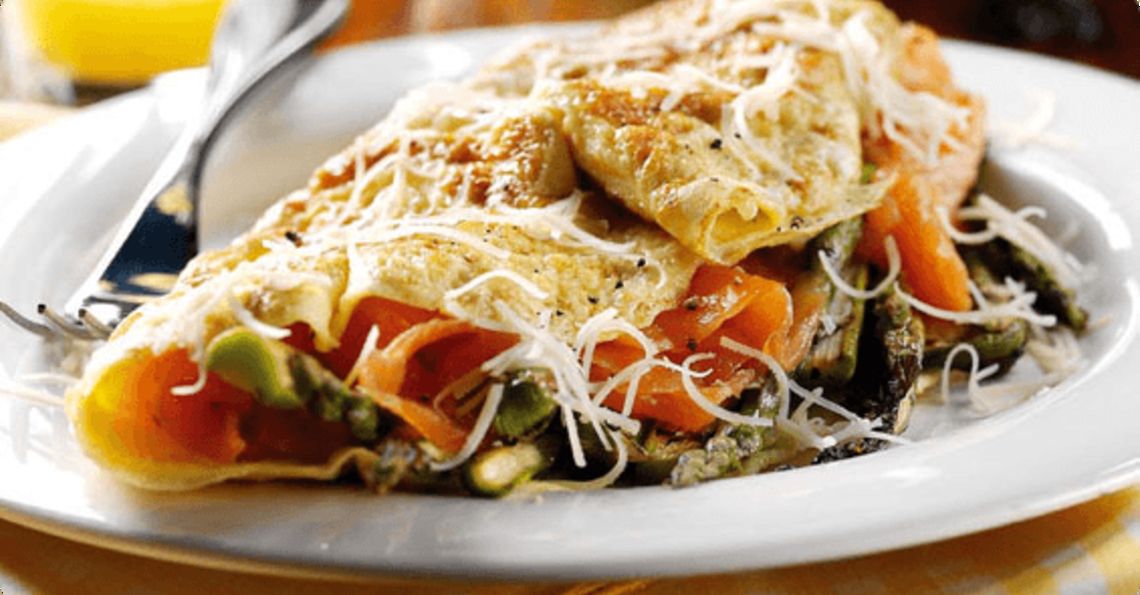 Serves: 4
Prep: 5 mins
Cook: 20 mins
Want to try something different and spoil yourself at the same time? Then whip up this super-tasty omelette, perfect for when you're on the go.  Enjoy the taste of sweet, creamy, nutty Gruyère cheese, combined with fresh trimmed delicious asparagus and succulent heavenly smoked salmon. 
Ingredients
1 300g bundle of fresh asparagus, trimmed
1tbsp olive oil
salt and freshly ground pepper
12 large British Lion eggs
50g/2oz butter
225g/8oz smoked salmon
25g/1oz gruyere cheese, grated
Method
Preheat a griddle pan. Cut the asparagus in half lengthways, toss in the olive oil and seasoning to taste. Lay the asparagus on the hot griddle pan and cook for 4-5mins, turning once until the asparagus is charred and tender. Beat the eggs with seasoning.
Melt a quarter of the butter in an medium frying pan, when sizzling pour in a quarter of the egg mixture and cook for 3-4 mins, pushing the cooked egg into the centre of the pan with a spatula until no runny egg remains. Cook for 1 min until base is golden.
Scatter a quarter of the asparagus and salmon over the omelette and fold onto a plate. Sprinkle over the cheese. Repeat to make a further three omelettes in the same way.
Click on the stars to rate this recipe: