Soft boiled egg and seasonal vegetable salad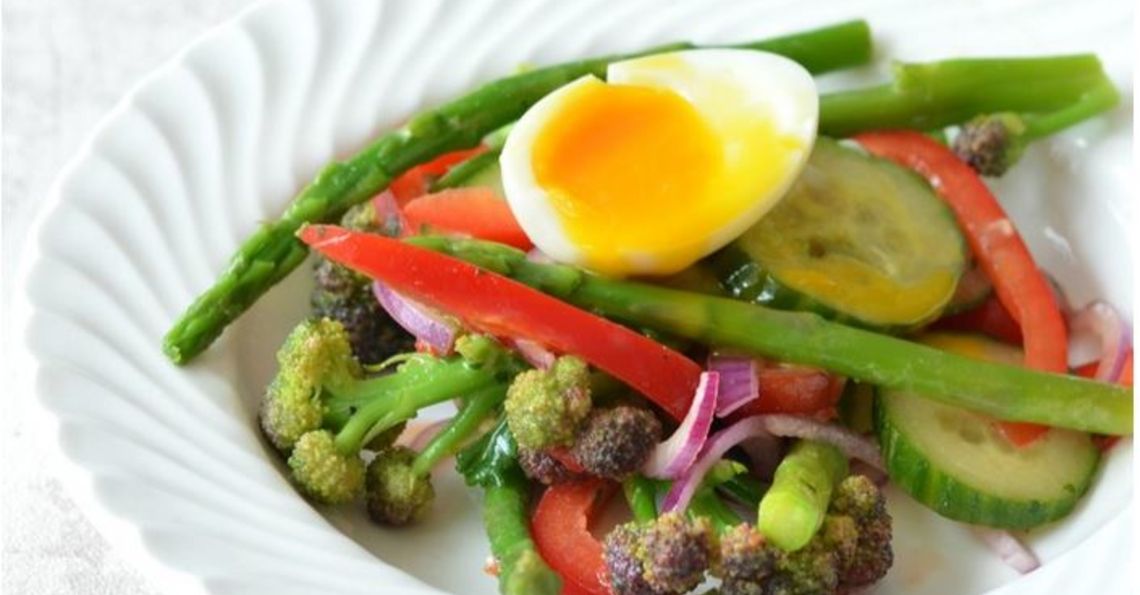 Serves: 2
Prep: 10 mins
Cook: 7 mins
Ingredients
2 room temperature British Lion eggs
A bunch of asparagus
Sprouting broccoli
A handful of cherry tomatoes, halved
1/2 red onion, sliced
1/2 red pepper, sliced
A few slices of cucumber
Juice of half a lemon
1 tbsp extra virgin olive oil
1 tbsp Dijon mustard
Sea salt and pepper to taste
Method
Bring a small pan of water to the boil, add the eggs and simmer for four and a half minutes.
Remove the eggs and place into a pan of cold water until you need them.
Bring another pan of water to the boil and add the asparagus and broccoli for a minute or two (depending on how crunchy you like it). Once cooked remove the asparagus from the pan and place into cold water and then drain.
Add the asparagus, broccoli, tomatoes, onion and pepper to a large bowl.
To make the dressing mix the lemon, oil and mustard together. Drizzle the dressing over the vegetables and toss to make sure all the vegetables are coated.
Divide the salad betweem two bowls or plates.
Peel and slice the eggs and add to the top of the salad.
Season with sea salt and freshly ground black pepper and serve.
Recipe courtesy of the Crazy Kitchen Blog.
Click on the stars to rate this recipe: