Souffle omelette with apples and blackberries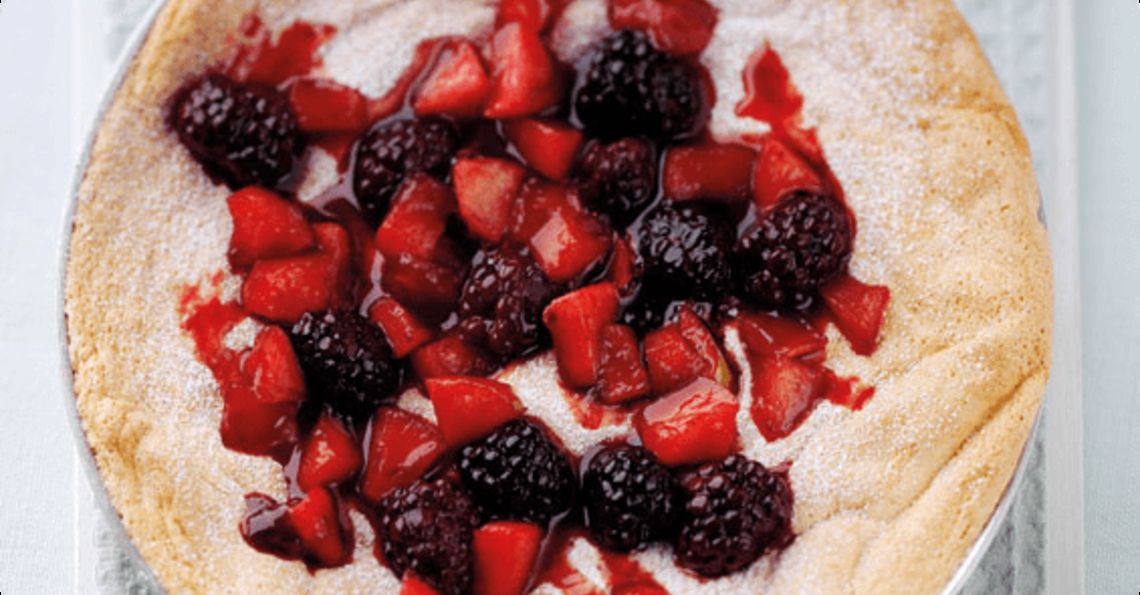 Serves: 2
Prep: 7 mins
Cook: 25 mins
For those with a sweet tooth, try this charming summer soufflé omelette. Filled with crunchy sweet apple pieces and delicious blackberries infused with cinnamon spices, you'll love this perfect dish that's ideal for picnics out in the sun.
Ingredients
3 British Lion eggs, separated
120g caster sugar
1 vanilla pod
1 Granny Smith apple, peeled, cored and cut into 1cm cubes
1 punnet blackberries
Pinch ground cinnamon
25g unsalted butter
50ml Calvados
Icing sugar to dust
Method
Place the yolks and whites in separate bowls and add 50g of sugar to each. Add the vanilla seeds to the yolks and whisk for 3 min until creamy. Whisk the whites until the mixture holds itself (soft peaks).
Gently combine the yolks and whites using a spatula.
Add half the butter to a hot pan, then add the apples and cinnamon. Cook for 3 min, add the remaining sugar and Calvados. Cook for 5 mins then add the blackberries and cook for a further 5 minutes. Keep warm in the pan.
Add the remaining butter to a hot frying pan, pour in the soufflé mix and place in the oven at 180ºC for 10 min or until golden. Scatter the apples and blackberries on the omelette, or make a hole in the omelette for the fruit and berries. Dust with icing sugar and serve immediately in the pan.
Click on the stars to rate this recipe: