Sourdough French toast with fried egg, roasted peppers and grilled halloumi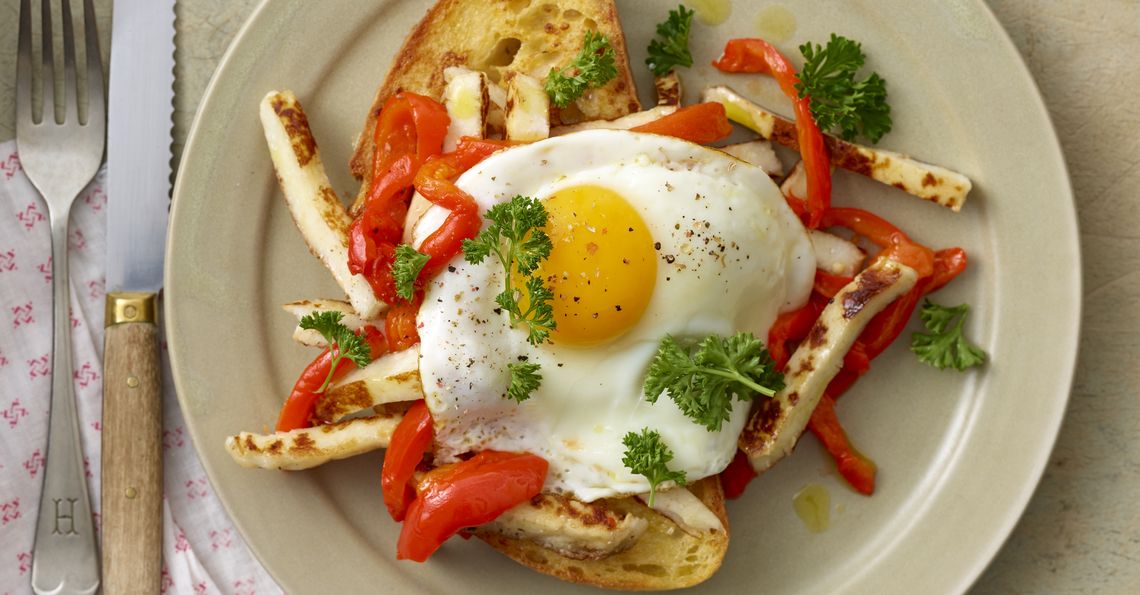 Serves: 1
Prep: 15 mins
Cook: 60 mins
Ingredients
1 thick slide of sourdough bread
1 large British Lion egg
1 tbsp milk
1 knob of butter
1 red pepper
1 tsp red wine vinegar
1 tbsp olive oil
50g halloumi cheese, sliced
1 large British Lion egg
Salt
Pepper
Method
Preheat the oven to 200 C/180 C fan. Wrap the pepper in tin foil. Transfer onto a roasting tray and cook in the oven for about an hour, until soft.
Unwrap the pepper and leave to cool. Peel and remove the seeds. Slice into long strings and season with red wine vinegar, olive oil and salt.
Heat up a heavy base frying pan or a griddle pan and (keeping the heat high) grill the halloumi cheese on both sides until golden brown. Chop/slice into strings similar in size to your roasted pepper.
Using fork, beat the egg and milk together in a shallow bowl, big enough for the sourdough slice. Dip the bread in the egg mix, flip and leave to soak for a minute. Melt the butter on a medium size frying pan and fry the eggy bread on each side for about 2-3 minutes.
In another pan, fry the second egg till the egg white sets but the yolk is still runny.
Place the toast on a plate, spoon over the peppers, halloumi and top with fried egg. Season with salt and pepper. Enjoy!
Nutritional information, per serving:

| Calories | Carbs | Protein | Fat | Saturates | Salt |
| --- | --- | --- | --- | --- | --- |
| 827 | 82.5g | 36.0g | 41.5g | 16.1g | 3.5g |
Click on the stars to rate this recipe: