Stir fried rice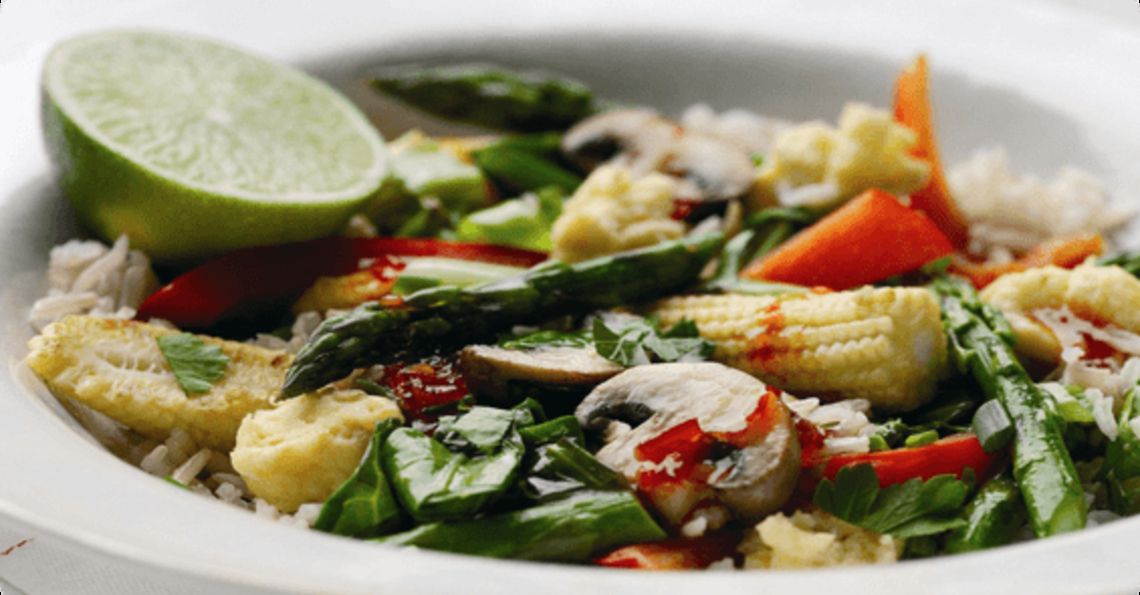 Serves: 2
Prep: 2 mins
Cook: 10 mins
A tasty stir fry, packed with healthy vegetables.
Ingredients
1tbsp sunflower oil
4 spring onions, sliced
8 asparagus spears, chopped into chunks
¼ cabbage, finely sliced
125g baby sweetcorn
¼ red pepper, sliced
Handful chestnut mushrooms, sliced
150g cooked long-grain brown rice
3 large British Lion eggs, beaten
1tbsp each soy sauce and sweet chilli sauce
1tsp sesame oil
1tbsp each freshly chopped parsley and chives
1 lime, cut in half to serve
Method
Heat 2tsp sunflower oil in a pan and stir fry the spring onions, asparagus, cabbage, sweetcorn, pepper and mushrooms for around 5 min until just tender. Add a splash of water halfway through to help the vegetables cook.
In a separate pan, heat the remaining 1tsp oil and add the eggs. Swirl all around the pan to cover the base and cook for 1 min. Add the rice and use a wooden spoon to break up the egg and incorporate the rice.
Divide the stir fried rice between two plates and top with the stir fried vegetables. Mix together the soy sauce, sweet chilli sauce and sesame oil. Drizzle over the top, scatter over the herbs and serve with the lime to squeeze over.
Click on the stars to rate this recipe: