Tom Daley's migas eggs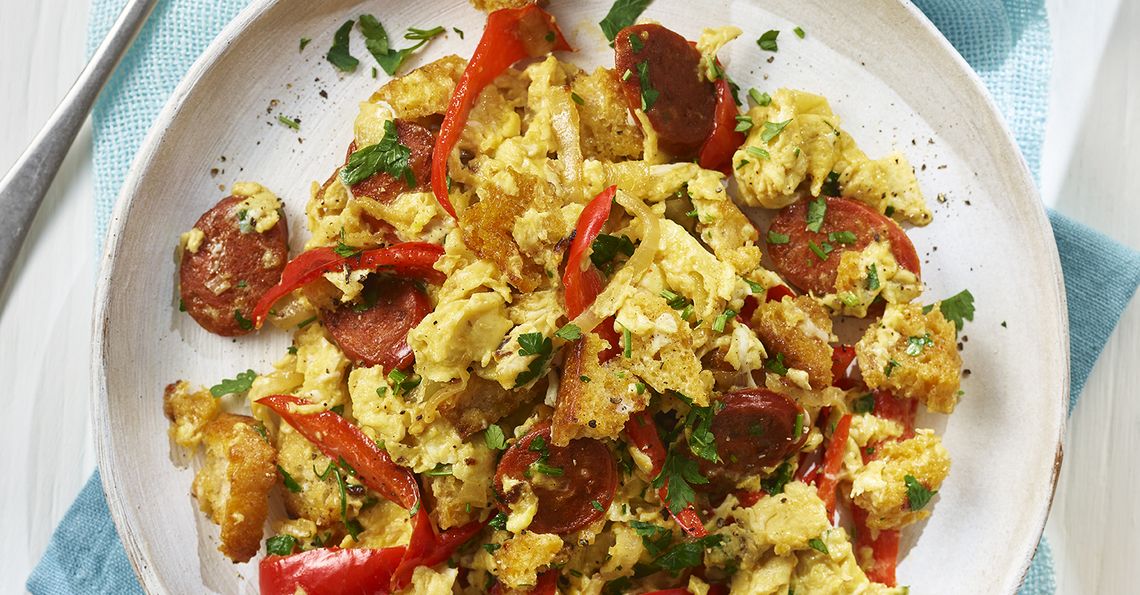 Serves: 2
Prep: 5 mins
Cook: 20 mins
Searching for a simple and flavour-packed breakfast? Try out Tom's easy to prepare migas eggs for his take on a Mexican classic.
Ingredients
100g cooking chorizo, sliced
75g leftover bread (sourdough works well here), torn into 1.5cm cubes
1 tbsp olive oil
1 small onion, finely sliced
1 red pepper, finely sliced
4 large British Lion eggs
1 small handful parsley, roughly chopped
Method
Heat the chorizo in a large frying pan over medium-high heat and cook for 3-5 minutes, until crisp.

Remove with a slotted spoon, leaving behind any oil in the pan.

Add the bread to the pan and cook for 2-3 minutes until crisp. Remove from the pan and set aside.

Reduce the heat to medium and heat the olive oil in the same pan and add the onion and red pepper. Cook for 7-10 minutes until softened.

Beat the eggs in a medium jug and add them to the pan. Cook the eggs, stirring frequently, until just cooked, around 2-3 minutes. Stir through the chorizo and crisp bread and parsley and season to taste. Divide the eggs between two plates and serve.
Click on the stars to rate this recipe: