Avocado breakfast tacos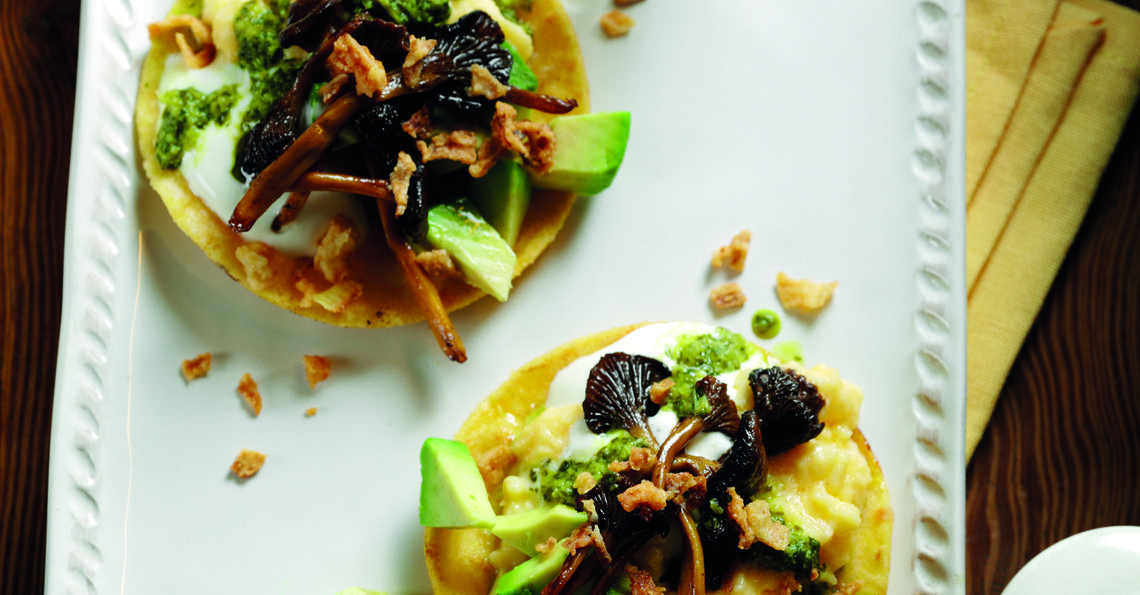 Serves: 4
Prep: 15 mins
Cook: 15 mins
Who says you can't have tacos for breakfast?! If you're looking for something a little different to start your day with, have a go at making these breakfast tacos with eggs, avocado, mushrooms and onions. Trust us, you'll love 'em.
Ingredients
50g butter, plus a knob for the mushrooms
6 large British Lion eggs
2 tbsp double cream or milk
100g small mushrooms, cleaned
6 tbsp soured cream
1 avocado, peeled, stoned and diced
4 tbsp crispy fried shallots or onions
1 quantity green sauce
1 quantity tacos (or use 8 small store-bought corn tortillas)
for the tacos…
75g fine cornmeal (or masa harina)
75g plain flour
100ml water
Pinch of salt
for the green sauce…
2 cloves of garlic, sliced
4 tbsp coriander, chopped
4 tbsp lime juice
Method
Heat a cast iron frying pan or griddle pan until hot.
Mix the taco ingredients together to form a firm but pliable dough. Roll the dough onto a lightly floured sheet of baking parchment until 3mm thick. Cut out discs with a 9-10cm pastry cutter. Brush each with oil and cook on both sides in the hot pan for 1 minute until they turn a deep golden colour. Keep warm in a clean tea towel.
For the eggs, heat a saucepan on a low heat and add the butter. In a bowl beat eggs and cream. Add the egg mixture to the butter and cook gently, stirring until just cooked but still loose. Season and take off the heat.
In a frying pan cook the mushrooms in a knob of butter over a high heat and season to taste. Pound the garlic and the coriander into a paste in a pestle and mortar, then add the lime juice and mix well.
Load the taco up with a little egg, some mushrooms and avocado and top with soured cream, green sauce and crispy shallots.
Nutritional information, per serving:

| Calories | Carbs | Protein | Fat | Saturates | Salt |
| --- | --- | --- | --- | --- | --- |
| 533 | 31.8g | 17.9g | 37.6g | 17.4g | 0.7g |
Click on the stars to rate this recipe: