Chow mein with prawns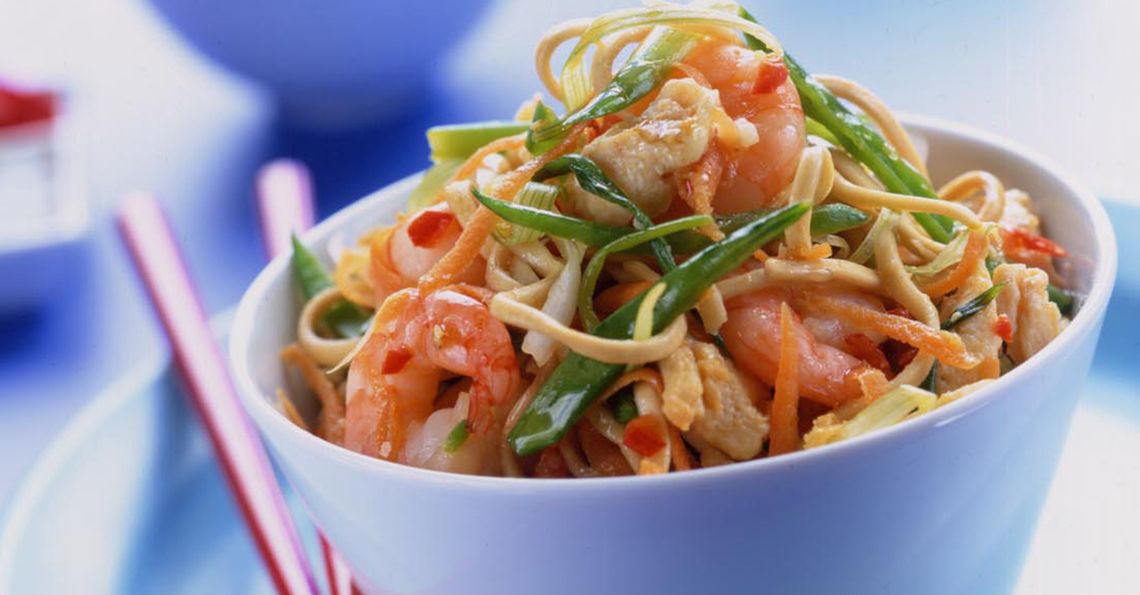 Serves: 4
Prep: 2 mins
Cook: 8 mins
This delicious chow mein with prawns makes a satisfying meal for the family and is quick to prepare.  Take a look at these egg recipes when you next need to rustle up a quick meal for the family.
Ingredients
225g (8oz) medium egg noodles
2 tablespoons vegetable oil
1 bunch spring onions, cut into strips
1 carrot, grated
100g (3 1/2 oz) mange tout, shredded
225g (8oz) cooked, peeled tiger prawns
1 garlic clove, crushed
2.5cm (1 inch) piece root ginger, grated
1 large red chilli, de-seeded and chopped
4 large British Lion eggs, beaten
2 tablespoons dark soy sauce
Method
Cook the noodles according to the packet instructions, drain and set aside. Heat half the oil in a large wok, add the spring onions, carrot, mange tout, prawns, garlic, ginger and chilli. Stir-fry for 2-3 minutes. Transfer to a bowl and keep warm.
Add the remaining oil to the wok and pour in the eggs. Cook, stirring continuously, until the eggs have scrambled.
Add the soy sauce, noodles and stir-fried vegetables to the wok and stir-fry together for 1 minute. Serve immediately in bowls.
Click on the stars to rate this recipe: