Christmas Party Stuffed Cocktail Eggs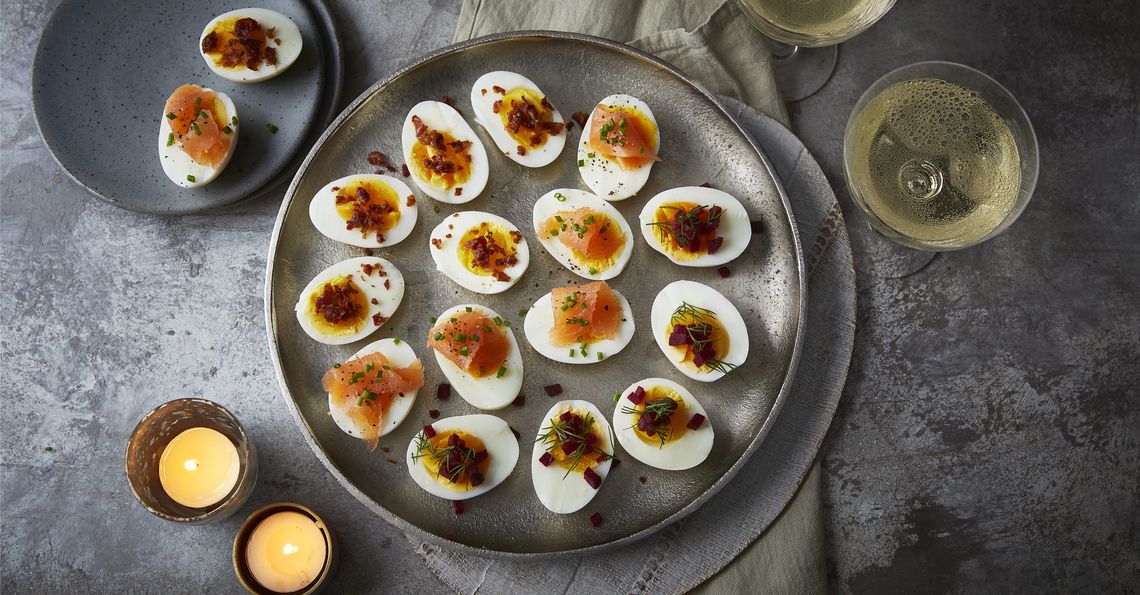 Serves: 24
Prep: 10 mins
Cook: 8 mins
These cocktail eggs are the perfect platter to impress all your friends over the party season!
Ingredients
12 medium British Lion eggs
100g smoked salmon
1 tbsp chopped chives
100g pancetta, finely chopped
100g pickled beetroot, finely chopped
A few sprigs of dill, fronds picked
Method
Bring a large pan of water to the boil and add the eggs. Bring back up to a simmer and simmer for 8 minutes, until the yolk is set but is still slightly soft.
Remove the eggs and soak with cold running water until cold, then peel.
Heat a medium frying pan over medium-high heat and fry the pancetta until crisp. Drain on kitchen paper. 
Slice the eggs in half and top each half with a choice of either smoked salmon and chives, crispy pancetta or pickled beetroot and dill. 
Season with a little sea salt and black pepper. Serve on a large platter.
Click on the stars to rate this recipe: