Courgette risotto omelette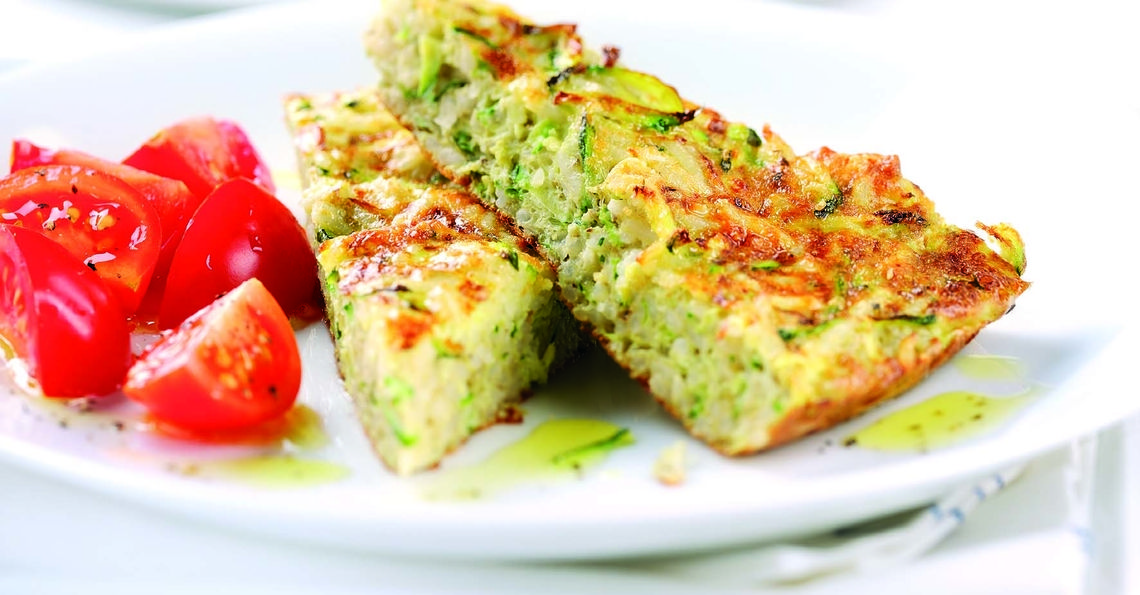 Serves: 4
Prep: 5 mins
Cook: 10 mins
A super quick and mouth-watering comfort dish complete with crunchy courgettes infused with the fruity and nutty flavours of parmesan cheese and completed by the light crunch of pesto sauce. Filling and satisfying.
Ingredients
6 large British Lion eggs
30ml/2tbsp pesto sauce
2 courgettes, grated
175g/6oz cooked long grain rice *
30ml/2tbsp olive oil
25g/1oz freshly grated Parmesan cheese
Salt and freshly ground black pepper
Method
Beat the eggs and pesto sauce with salt and freshly ground black pepper. Stir in the courgettes and rice. Heat the oil in a large non-stick frying pan and pour in the egg mixture.
Cook over a medium heat for 3-4 minutes or until the base is set and golden. Sprinkle the cheese all over the top then pop it under a hot grill and cook for a further 3-4 minutes or until the omelette is set and top golden. Leave to stand for 5 minutes before serving warm in wedges with tomato salad.
*Tip: If you don't have any left over rice you'll need to cook 50g/2oz in boiling salted water. Or if you prefer look out for sachets of cooked rice in supermarkets and keep one on standby in your storecupboard.
Click on the stars to rate this recipe: