Crab frittata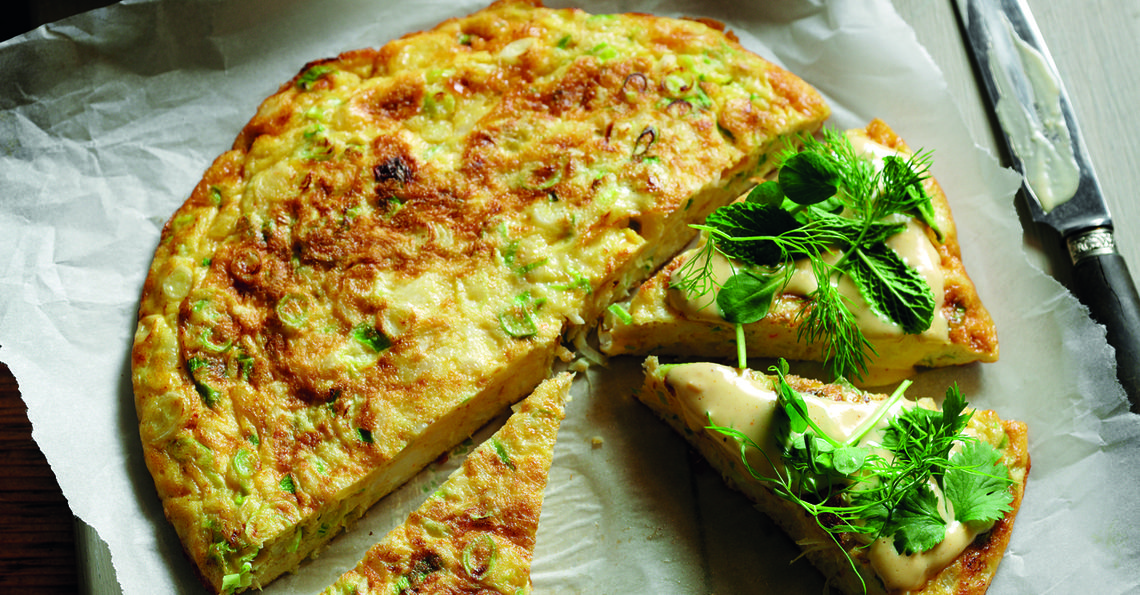 Serves: 4
Prep: 10 mins
Cook: 25 mins
This is a good one for picnics or taking round to a gathering as you can slice and share. Ready in just 35 minutes from prep to plate this is a great alternative to the classic frittata.
Ingredients
2 tbsp sunflower oil
3 spring onions, finely sliced
1 shallot, finely sliced
1 clove of garlic, crushed
1 tsp root ginger, grated
1 tsp lemongrass paste
150g white crab meat
50g brown crab meat
6 large British Lion eggs, beaten
For the salad…
Small bunch mint, leaves only
Small bunch coriander, picked
50g salad mix (pea shoot and fennel tops work well)
For the crab mayo (or make your own – see below)…
125g good quality mayonnaise
2 tbsp brown crab meat
Juice of ½ lemon
To make your own crab mayo…
150ml groundnut oil
1 British Lion egg yolk
1 tbsp white wine vinegar
1 tsp American yellow mustard
2 tsp brown crab meat
Pinch of cayenne pepper
Method
For the frittata, heat oven to Mark 4/180C/160C fan. Heat oil in a 20cm non-stick ovenproof frying pan, add onions, shallot, garlic, ginger and lemongrass and cook for one minute, stirring.
Whisk crab and eggs together and add to the pan over a medium heat. Using a spatula, slowly draw in the mixture from the sides of the pan to allow the raw mixture to spill out into the pan, repeat until there is no liquid egg spilling out. Transfer to the oven for five minutes or until risen and the middle is just set.
Leave for few minutes to cool and set and then place a plate upside down on top of the pan and flip it over to get the frittata out.
Meanwhile make the crab mayo by mixing the crab meat and lemon juice into good-quality mayonnaise.
When cooled serve the frittata with mayo and lots of salad.  
Cooks tips
To make your own mayo, follow these simple steps...
1. Up to a day before, make the mayo. Using an electric whisk, mix the egg yolk with the vinegar and mustard and slowly add the oil whisking all the time until you get a good thick mayo.
2. Finish with cayenne, salt, crab meat and a little drop of water, then chill.
Nutritional information, per serving:

| Calories | Carbs | Protein | Fat | Saturates | Salt |
| --- | --- | --- | --- | --- | --- |
| 235 | 0.7g | 21.4g | 16.4g | 3.3g | 0.8g |
Click on the stars to rate this recipe: