Pea, ham and tomato omelette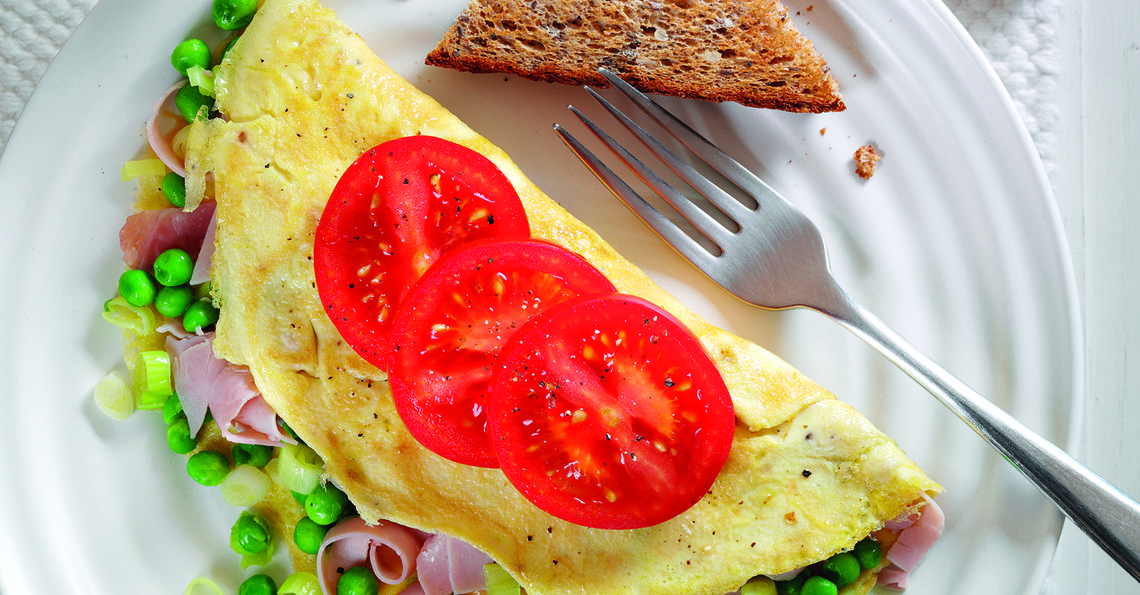 Serves: 1
Prep: 5 mins
Cook: 5 mins
Ingredients
2 large British Lion eggs
A spray of oil
1 spring onion, finely sliced
40g frozen peas
4 slices wafer thin ham
1 tomato sliced
Wholemeal toast to serve
Method
Heat a small non-stick frying pan, add a spray of oil and add the spring onions and frozen peas. Cook, stirring until the peas are hot. Transfer to a plate.
Roll up the slices of ham and use a knife to cut into ribbons and mix with the spring onion and peas.
Spray the pan with oil again. Beat the eggs with a little water, a little salt and pepper and court into the hot pan. As the egg begins to set, use a spatula to push the set egg towards the centre of the pan until there is no more runny egg left.
Scatter the filling over the omelette and fold over. Slip onto a warm plate and serve topped with the sliced tomato. Serve with a slice of wholemeal toast.
Nutritional information, per serving:

| Calories | Carbs | Protein | Fat | Saturates | Salt |
| --- | --- | --- | --- | --- | --- |
| 441 | 22.5g | 32.6g | 25.3g | 6.4g | 2.7g |
Click on the stars to rate this recipe: