Egg, leeks and tomato hash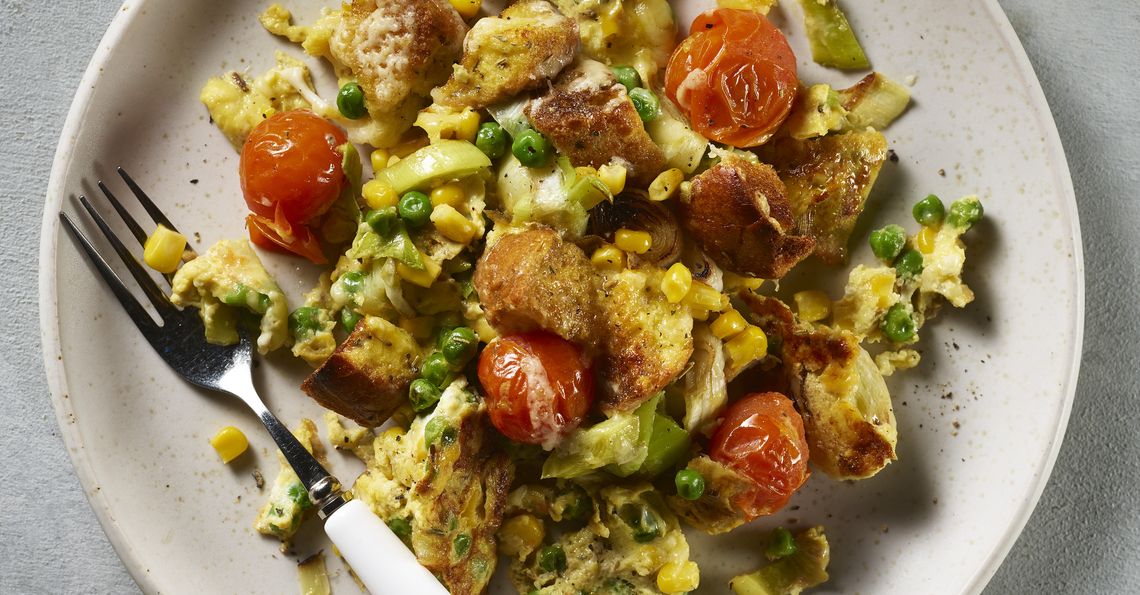 Serves: 4
Prep: 5 mins
Cook: 10 mins
This delicious egg, leeks and tomato hash recipe is simple yet flavourful - perfect for busy weeknights or lazy weekend brunches. The combination of eggs, leeks and tomatoes is both hearty and comforting. Plus it's easy to whip up in no time at all!
Ingredients
60g slices of bread
5 medium British Lion eggs
1 tsp mixed dried herbs
salt and ground black pepper
2 Tbsp olive oil
2 leeks, cleaned and sliced
75g frozen peas
50g frozen sweetcorn
100g cherry tomatoes, halved if large
75g mature English cheddar, grated
Method
Toast the bread under a grill until golden on both sides. Cool slightly, then break or slice into 2cm pieces. Beat the eggs with the herbs and seasoning.
Heat the oil in a frying pan, add the leeks and fry over moderate heat for 4 minutes until golden and soft. Stir in the frozen vegetables and tomatoes, then continue to fry, stirring occasionally until any liquid has gone.
Stir in the bread chunks and half the cheese until evenly mixed. Pour in the eggs and cook over a moderate heat, stirring occasionally until the eggs have almost set.
Scatter over the remaining cheese and pop the pan under a hot grill. Cook for a few more minutes until the top is golden. Serve hot spooned onto plates.
Click on the stars to rate this recipe: