Egg, sweetcorn and bacon jackets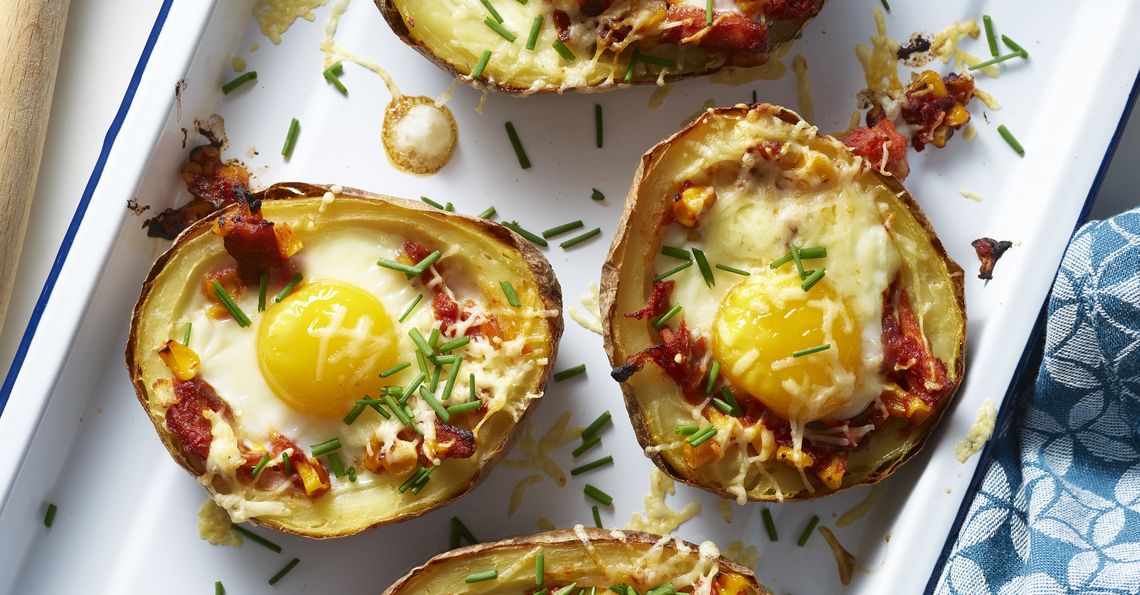 A great way to revamp and use up leftover jacket potatoes.
Ingredients
3 large cooked jacket potatoes
½ tbsp sunflower or olive oil
3 rashers (100g) smoked bacon, thinly sliced
400g can chopped tomatoes
150g sweetcorn
6 British Lion eggs
50g mature cheese, finely grated
1 tsp chives, to garnish, optional
Method
Heat oven to gas mark 5/190C/170C fan. 
Heat oil in a large frying pan, add onion and bacon and cook over a medium heat for 6-8 minutes until cooked through. Add tomatoes and simmer for 5 minutes until thickened. Stir in the sweetcorn. 
Meanwhile, cut potatoes in half and scoop out the middle leaving a 1/2cm thick 'skin'. You can freeze the potato flesh to use as mash. Place the potato skins on a baking tray. 
Add the filling to each potato, then scatter each with some cheese. 
Break an egg into each and scatter with a little more cheese. 
Bake for 20 minutes until just cooked through. 
Scatter with chives, if using, and serve.
 
Cooks tips
For a veggie version, swap bacon for sliced cooked veggie sausage or half a can of cannellini beans.
Click on the stars to rate this recipe: