Egg-topped stir-fried pork ribs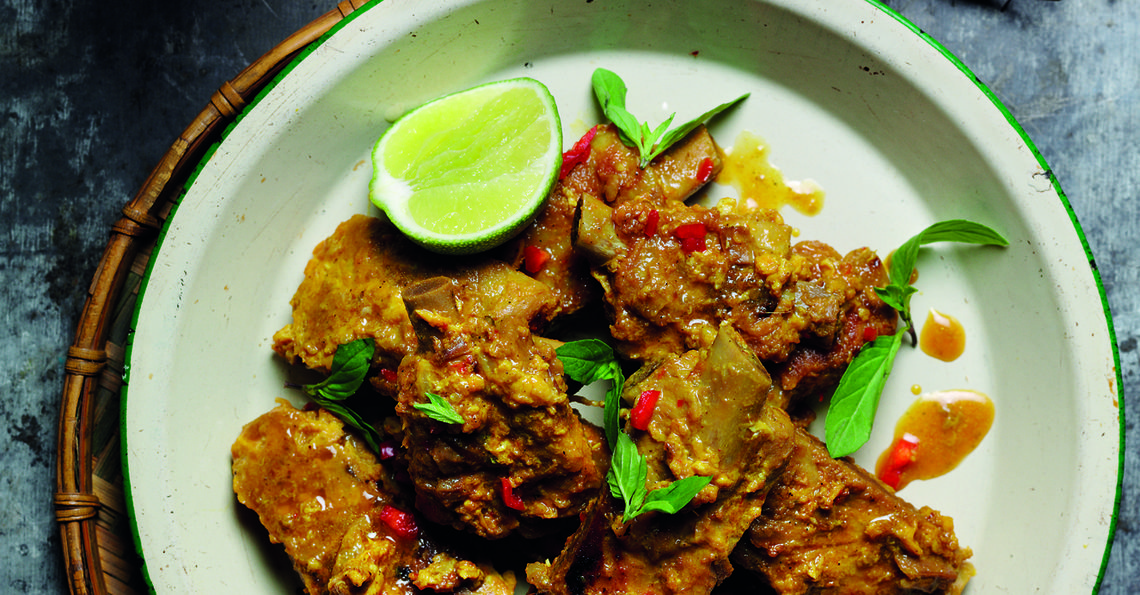 Serves: 2
Prep: 60 mins
Cook: 10 mins
Ingredients
12 pork ribs (ask butcher to chop into ribs and then chop them in half to create half ribs)
4 cloves of garlic, peeled
2 tbsp whole red turmeric, peeled, sliced & chopped into chunks
3 red birds eye chilli, roughly chopped (a little less if you can't take the heat)
1 tsp coarse sea salt
2 tbsp soy sauce
5 tbsp chicken stock
1 tsp brown soft sugar
2 beaten British Lion eggs
100ml vegetable oil
1 big handful sweet basil (normal basil works well too)
Method
To blanch the pork ribs bring them slowly to the boil, once starting to bubble simmer gently for one hour or until the meat is tender. Once cooked remove from the water and leave aside.
Next make your curry paste. In a pestle and mortar or food processor add the chilli, garlic and turmeric and pound, using the coarse salt as an abrasive to break down the ingredients into a paste.
Heat the oil in a wok. Once hot, add the ribs and stir fry for a couple of minutes.  Add the paste and stir well, coating the ribs in the paste. When the paste starts to go golden brown add the eggs and keep the mixture moving so the eggs scramble around the ribs.
Lastly add the chicken stock, soy sauce and sugar to the wok and then throw in the basil leaves and serve with a wedge of lime.
Click on the stars to rate this recipe: