Fine herb omelette with sliced smoked salmon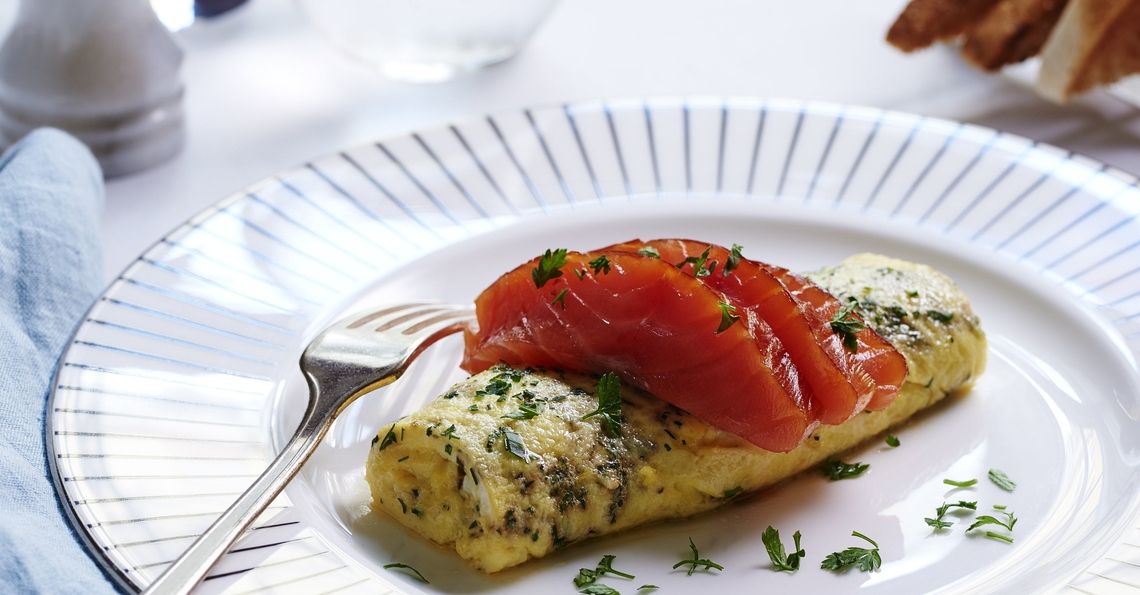 Serves: 2
Prep: 5 mins
Cook: 5 mins
A recipe for fine herb omelette served with sliced smoked salmon.
Ingredients
6 large British Lion eggs
1/2 tsp chives, chopped
1/2 tsp tarragon, chopped
1/2 tsp parsley, chopped
1/2 tsp chervil, chopped (use extra parsley if not available)
A pinch of salt and pepper to season
10g butter
50g good quality sliced smoked salmon, cut into thick strips
Method
Gently heat a nonstick frying pan.
Crack the eggs into a bowl, add one tbsp of water and lightly beat them with a whisk. Add in the chopped herbs and season with a pinch of salt and pepper.
Melt the butter in the pan and then quickly pour in the beaten eggs, stirring and shaking the pan until they fully cover the bottom. Cook the eggs evenly until they just set.
Remove the pan from the heat and fold the eggs into an omelette shape.
To serve, place the omelette in the centre of a plate, lay the sliced smoked salmon on top and sprinkle lightly with parsley.
Click on the stars to rate this recipe: