Fresh mayo dips three ways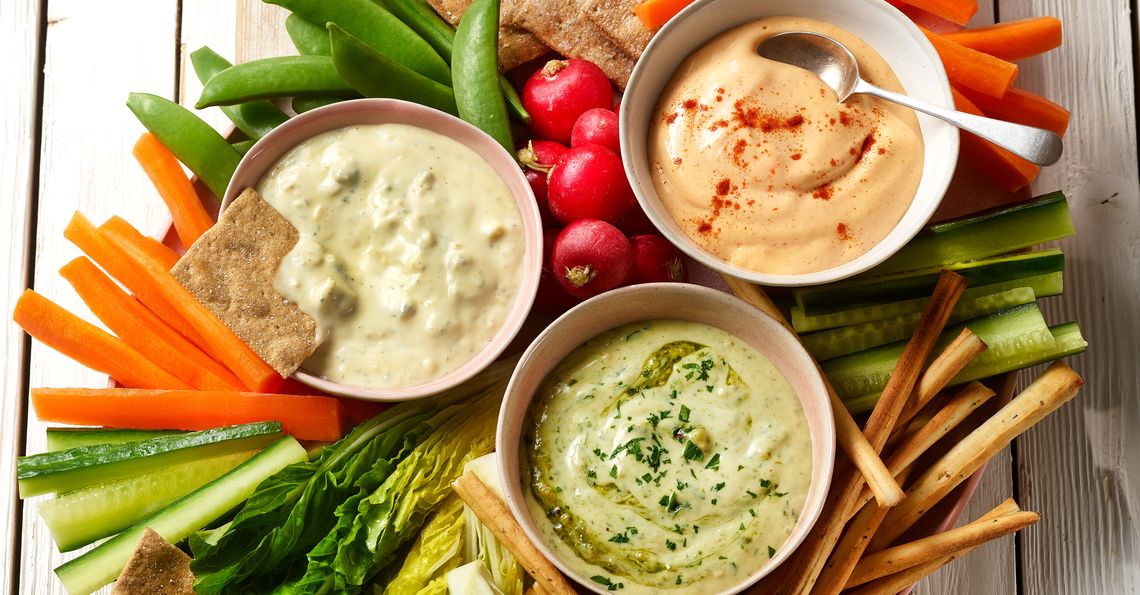 Ingredients
3 medium British Lion Quality eggs
3 teaspoons Dijon mustard
3 tbsp white wine or cider vinegar
400ml sunflower oil
100ml extra virgin olive oil
1 tsp salt and ground pepper to taste
75g blue cheese, crumbled
3 tbsp Sriracha sauce
2 tbsp pesto sauce
2 tbsp chopped fresh parsley
Method
Place the eggs in a food processor, add the mustard, vinegar along with the salt and some pepper. Whizz  together for a few seconds until well blended. Use a spatula to scrape down the sides of the processor. 
Mix the oils in a  jug, then with the stick blender running, add the oil, bit by bit through the top nozzle, incorporating it each time before adding more, until all the oil has been added and you have a smooth, fluffy mayonnaise. Adjust the seasoning to taste.
Now divide the mayonnaise into three batches: Stir the cheese into one, Sriracha and herb ingredients into each the other two. Spoon each into a little bowl and chill for at least an hour. 
Arrange the bowls on a platter with a little spoon in each, surround with crackers, crudités and crisps or spoon into burgers and flat breads with barbecued food.
 
Click on the stars to rate this recipe: