Layered potatoes with leeks and bacon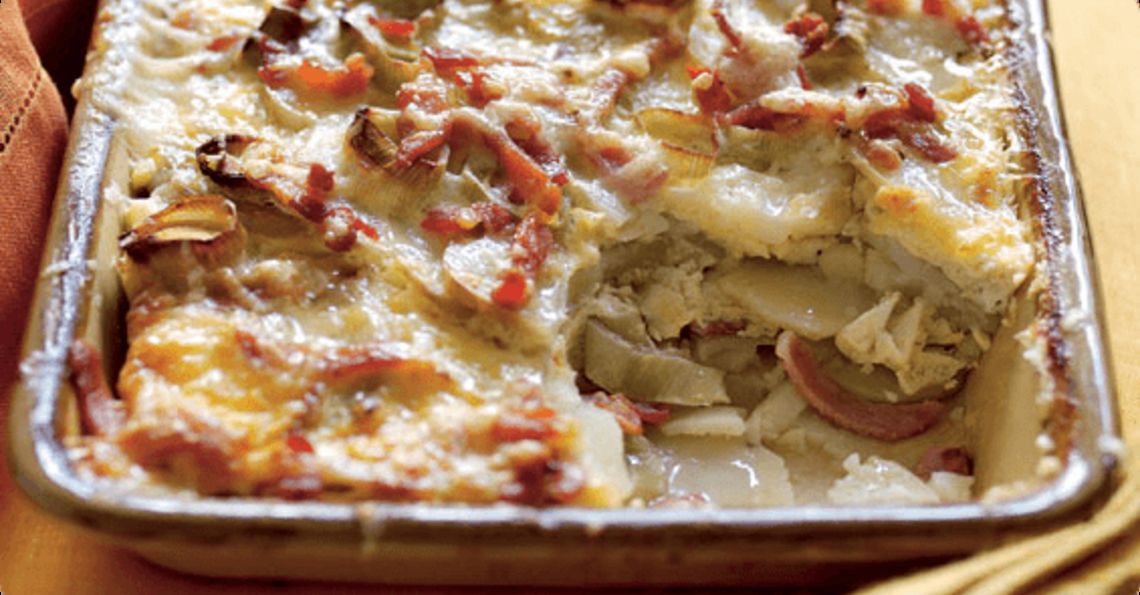 Serves: 4
Prep: 15 mins
Cook: 75 mins
Layered potatoes with leeks and bacon
Ingredients
15ml/1 tbsp vegetable oil
4 rashers back bacon, thinly sliced
675g/11/lb potatoes, peeled
2 leeks, cleaned and thinly sliced
200ml/7floz hot vegetable stock
6 large British Lion eggs, beaten
Salt and freshly ground black pepper
2.5g/1/2tsp freshly grated nutmeg
50g/2oz Cheddar cheese, grated
Method
Preheat the oven to 200C/Fan 180C/400F/Gas Mark6. Heat the oil in a small frying pan, add the bacon and sauté over a medium heat for 4mins or until the bacon is golden. Drain and set aside.
Meanwhile, thinly slice the potatoes - about the thickness of a £1 coin. Lightly oil a 1.2ltrl/21/2pt ovenproof dish. Arrange half the potatoes over the base of the dish, then scatter over half the bacon and leeks. Top with a second layer of potatoes and the remaining leeks. Pour over the stock, then cover the dish with foil and bake for about 40mins or until the potatoes are just tender when tested with a fork.
Scatter the remaining bacon over the top of the potatoes. Season the eggs with salt and pepper and the nutmeg, then beat well. Pour over the top of the potatoes, scatter over the cheese and return to the oven. Bake uncovered for a further 30mins or until the eggs are set and top golden. Serve with a crisp salad.
Click on the stars to rate this recipe: