Easter pavlova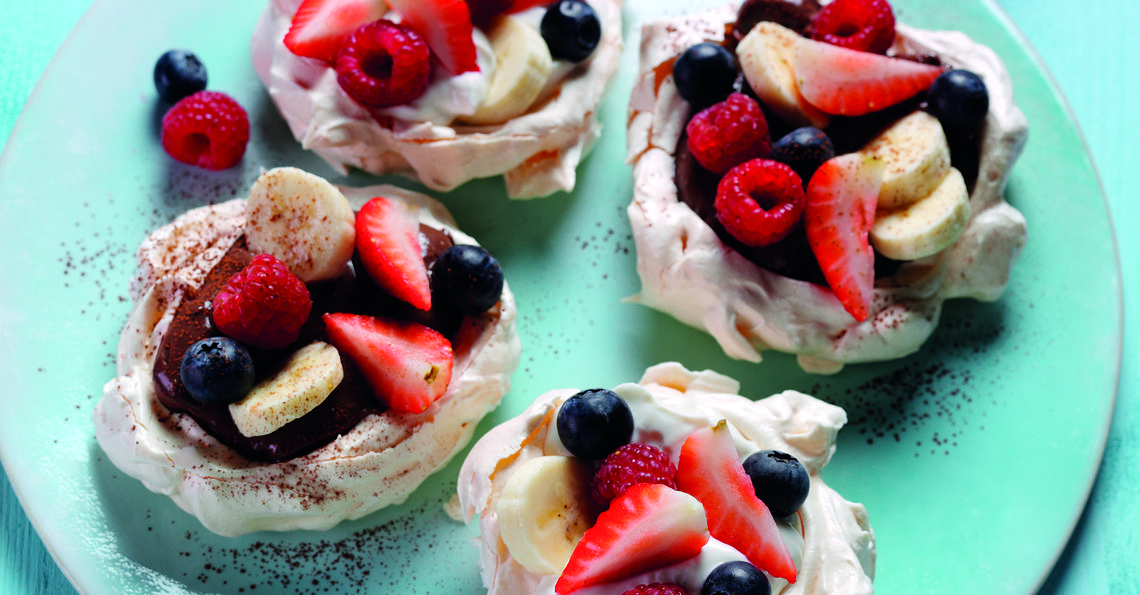 Serves: 10
Prep: 20 mins
Cook: 45 mins
This splendid Easter meringue pavlova is a dessert that showcases fresh flavours and tantalising textures.
Our recipe features three British Lion egg whites as its foundation, whisked to perfection with caster sugar before being gently folded with corn flour and vinegar. The result is a crisp yet delicate meringue base - an ideal canvas for the sumptuous layers of half fat crème fraiche or Greek yogurt, ripe bananas, mixed berries, cocoa powder-infused milk sauce and two egg yolks mix.
If you're in search of more inspiration for your Easter menu, we recommend exploring our collection of mouthwatering Easter recipes, featuring treats such as simnel apricot & pecan cake and delectable Easter egg cakes. 
Ingredients
3 British Lion eggs whites
140g caster sugar
1 tsp corn flour
½ tsp white wine or cider vinegar
350g half fat crème fraiche or Greek yogurt
1 tsp vanilla extract or paste
2 ripe bananas, sliced
300g mixed berries, sliced if large
2 tbsp cocoa powder
200ml skimmed milk
1 tbsp corn flour
2 egg yolks
2 tbsp caster sugar
Method
Heat oven to Mark 2/150C/130C fan. Line 2 baking trays with baking parchment.
In a large clean bowl, whisk egg whites with a hand whisk until soft peaks form. Gradually whisk the sugar, 1 headed tbsp. at a time, whisking until stiff after each addition. Fold the corn flour and vinegar with a spoon.
Spread 10 dollops of the mixture onto the prepared trays and spread each to form circles around 8cm in diameter. Use the spoon to build up the sides of the meringue.
Bake for 45-50 minutes until firm to the touch. Turn off the oven and leave the meringues to cool with the ajar.
For the filling, mix vanilla into the yogurt and spoon into the middle. Top with bananas and berries.
For a chocolate filling…
Mix cocoa and corn flour with a splash of the mix in a saucepan until smooth. Add remaining milk and heat until steam rises, stirring until slightly thickened.
Whisk egg yolks and remaining sugar until pale and doubled in volume. Remove milk from the heat and whisk in the yolks.
Return to the heat and cook very gently for a further minute until thickened, whisking constantly. Leave to cool, covered with cling film to prevent a skin forming.
Click on the stars to rate this recipe: