Passion cake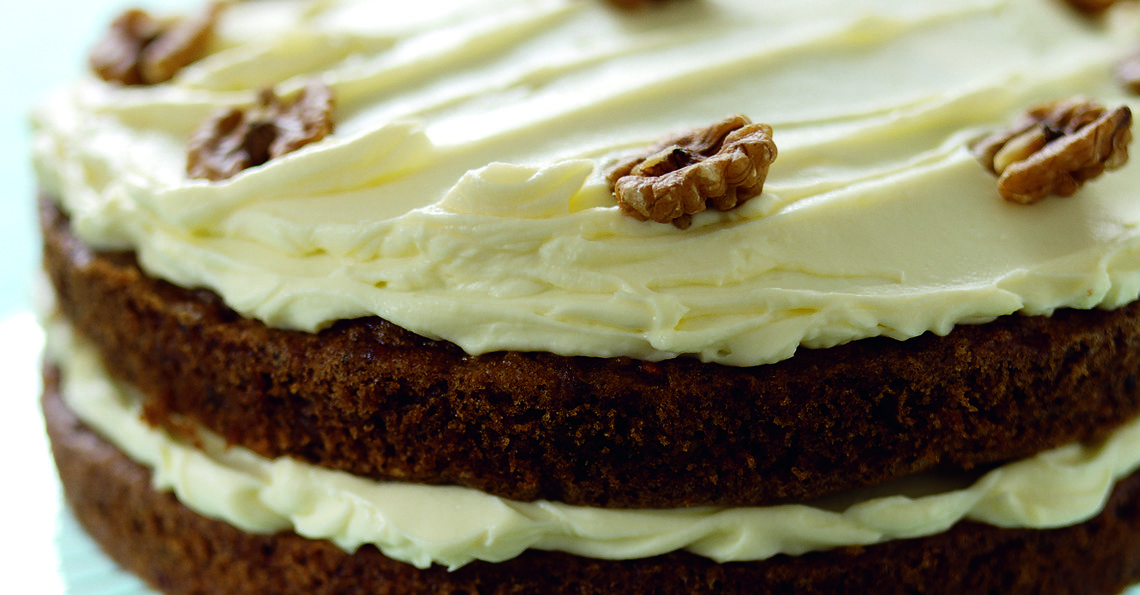 Serves: 12
Prep: 20 mins
Cook: 45 mins
Passion Cake is a delightful dessert that combines the earthy flavours of carrots and walnuts with the warmth of cinnamon, all brought together by the binding power of British Lion eggs. This cake features a moist texture from sunflower oil and caster sugar, enhanced by vanilla essence for an added depth of flavour. 
Its topping is a luscious layer of full fat soft cheese sweetened with sifted icing sugar and infused with vanilla essence. Adorned with walnut halves and decorated with ribbon, this cake is a tantalising treat for your Easter celebration.
Passion cake is a classic Easter recipe, a teatime treat the whole family can enjoy.
Ingredients
150g/5oz plain flour
5ml/1tsp bicarbonate of soda
5ml/1tsp baking powder
5ml/1tsp ground cinnamon
pinch of salt
225g/8oz carrots, peeled
75g/3oz walnuts, chopped
3 large British Lion eggs
175ml/6floz sunflower oil
150g/5oz caster sugar
10ml/2tsp vanilla essence
For the topping:
150g/5oz full fat soft cheese
25g/1oz icing sugar, sifted
2.5ml/1/2tsp vanilla essence
12 walnut halves
ribbon to decorate
Method
Preheat the oven to 180C/Fan 160C/Gas Mark 4. Oil and base line two 20cm/8in round cake tins.
Sift the first five ingredients into a large bowl. Coarsely grate the carrots, then add to the bowl with the walnuts. Beat the eggs, oil, sugar and vanilla together, add to the bowl and beat until well mixed.
Divide the mixture between the two cake tins, then bake in the centre of the oven for about 1hour, or until the cakes spring back when lightly touched in the centre. Cool the cakes in the tins for 5 mins, before removing from the tin and discarding the lining paper. Leave to cool on a wire rack.
To make the topping: place the soft cheese, icing sugar and vanilla essence in a bowl and beat until smooth. Sandwich the cakes together with half the icing and spread the remainder on top. Decorate with the walnut halves.
Other Easter cakes and treats you may enjoy, include:
Click on the stars to rate this recipe: