Rhiannon Lambert's veggie and chickpea frittata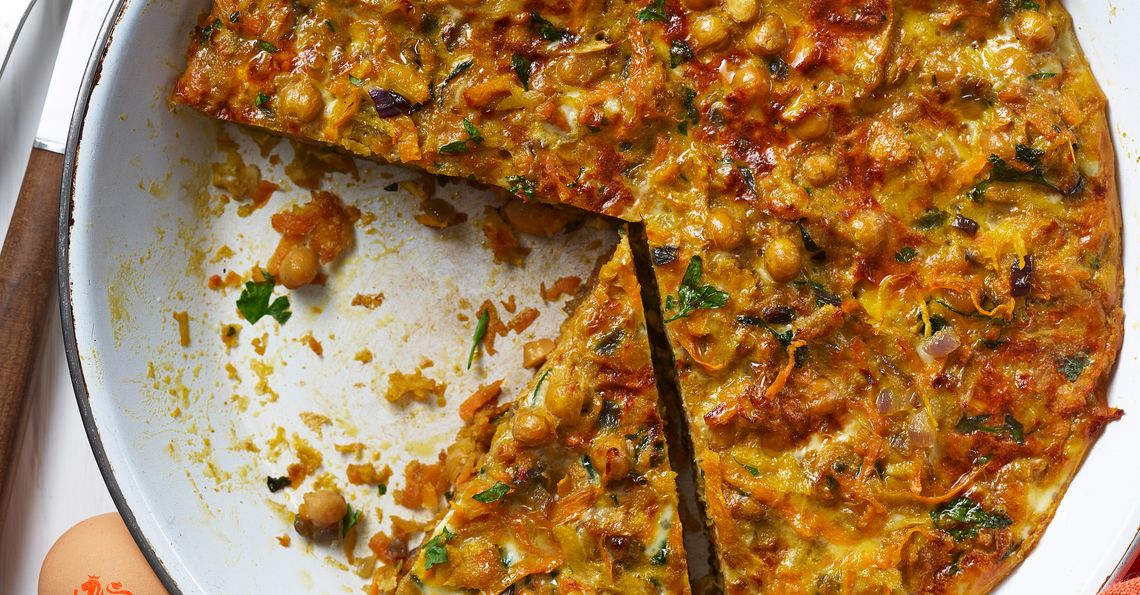 Serves: 4
Prep: 5 mins
Cook: 10 mins
Wanting a nutrient-rich supper? This veggie and chickpea frittata created by Registered Nutritionist Rhiannon Lambert can be served hot or cold. Rhiannon says: "Eggs are just incredible - they're a naturally nutritious food that's accessible to everyone, protein-rich and vitamin-filled."
Ingredients
1 tbsp olive oil
1 red onion, chopped
250g sweet potato peeled
200g carrot, peeled
200g parsnip, peeled
1 clove garlic, crushed
2 tsp ground cumin
2 tbsp chopped fresh parsley
1 (400g) can chickpeas, drained
6 medium British Lion eggs
Salt and freshly ground black pepper
Method
Heat the oil in a non-stick frying pan, add the onions and cook over a medium heat for 5 minutes or until soft.
Whilst this happens, coarsely grate the root vegetables onto a board. Add the grated veg to the pan, increase the heat slightly and cook, stirring until the vegetables are soft and lightly golden.
Stir in the garlic, cumin parsley, drained chickpeas and continue to cook, stirring for a minute until well mixed. 
Crack the eggs into a large jug and add a little salt and pepper. Beat together then pour into the pan. Stir until the eggs begin to scramble. 
After stirring, shake the pan to level the frittata and then continue to cook over a medium heat for 4-5 minutes or until the base is set. Pop the pan under a hot grill and continue to cook for about 2-3 minutes until the top is golden and set. 
Transfer to a board and leave to cool for a few minutes before slicing into wedges. 
Serve scattered with the remaining parsley. Serve in wedges with salad. Delicious hot or cold.
Click on the stars to rate this recipe: