Steph Houghton's Tuna, Sweetcorn and Kale Frittata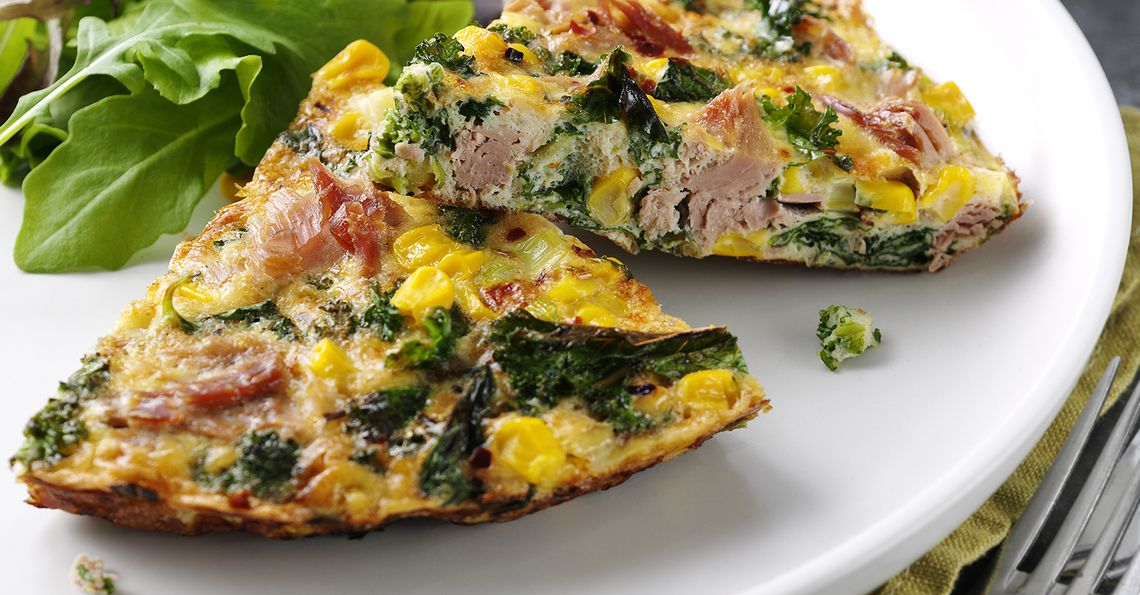 Serves: 3
Prep: 5 mins
Cook: 10 mins
Ingredients
2 tbsp olive oil
4 spring onion, chopped
50g chopped kale
100g frozen sweetcorn
½ tsp crushed chilli flakes
197g can tuna steak in spring water, drained
4 large British Lion eggs
A pinch of salt and freshly ground black pepper
Method
Heat the oil in a medium frying pan add the onion and fry for 1 minute. 
Add the kale and corn and stir fry for 3 minutes until the leaves have wilted. Season with salt and pepper.
Gently flake the tuna and add to the pan
Beat the eggs with the chilli and salt and pepper, then pour into the pan and stir well.
Cook for 2 minutes, stirring occasionally until most of the egg has set. Shake the pan to level, then continue to cook for 3 minutes.
Put the pan under a hot grill and cook for a final 2-3 minutes until the top is golden and the egg has set. 
Transfer to a board and cut into wedges. Serve warm or cold with salad.
 
Nutritional information, per serving:

| Calories | Carbs | Protein | Fat | Saturates | Salt |
| --- | --- | --- | --- | --- | --- |
| 412 | 9.5g | 41.1g | 23.8g | 4.9g | 1.3g |
Click on the stars to rate this recipe: