Toasted bagel with spinach and eggs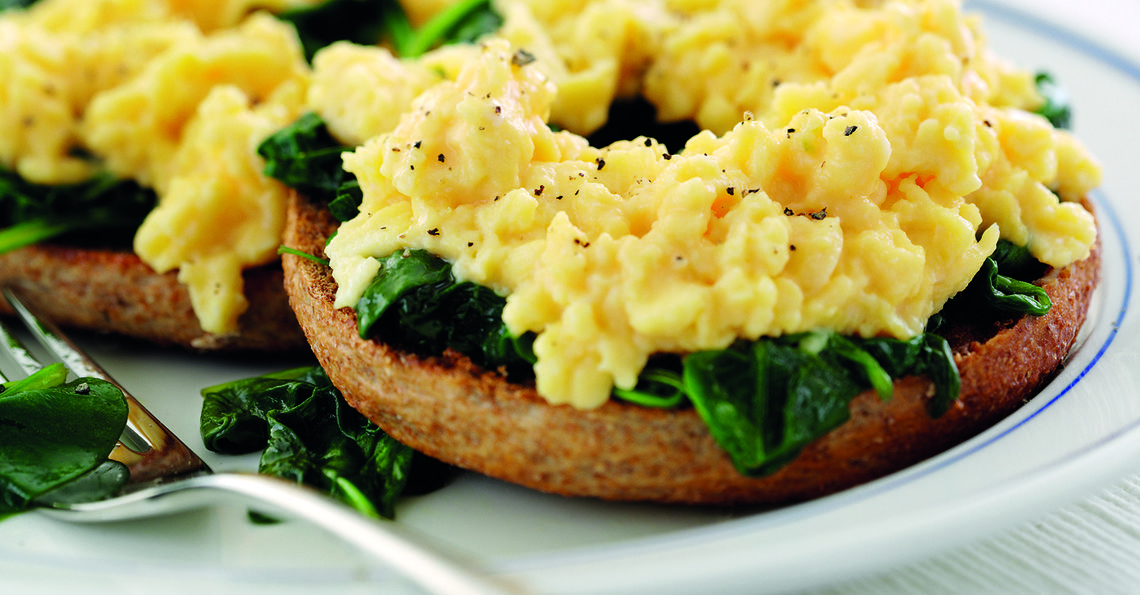 Serves: 1
Prep: 5 mins
Cook: 10 mins
This pre-exercise meal will help sustain power output during exercise thanks to its high content of carbohydrate, which is combined with protein (from the eggs) to lower the meal's glycaemic index (GI). A low GI meal eaten before exercise helps maintain stable blood sugar levels and increase endurance. The addition of spinach provides useful amounts of iron and folic acid.
Ingredients
60g/2oz baby spinach
1 teaspoon/5ml water
pinch freshly grated nutmeg
Salt and freshly ground black pepper
1 wholemeal bagel cut in half, toasted
2 medium British Lion eggs
2 tablespoons/30ml semi-skimmed milk
1 teaspoon/5ml butter or margarine
Method
Place the spinach and nutmeg in a pan over a medium heat, cover and shake well. Cook for 2-3 minutes, until the spinach has wilted. Season with salt and freshly ground black pepper.
Drain off any excess liquid.
For the scrambled eggs, beat the eggs and milk together with salt and freshly ground black pepper.
Cut the bagel in half horizontally. Place cut side up on a baking sheet and toast under a hot grill until golden. Set aside.
Melt the butter or margarine in a non-stick pan, pour in the eggs and cook over a low heat for 2 – 3 minutes, stirring with a wooden spoon, until most of the egg is set. Remove the pan from the heat and continue to stir for a further 30seconds.
To serve, place the toasted bagels on a plate. Spoon over the spinach and then top with the scrambled eggs.
Nutritional information, per serving:

| Calories | Carbs | Sugars | Protein | Fat | Saturates | Salt |
| --- | --- | --- | --- | --- | --- | --- |
| 417 | 43.0g | 6.0g | 25.0g | 15.6g | 4.2g | 1.2g |
Click on the stars to rate this recipe: