Tomato crostini with fried egg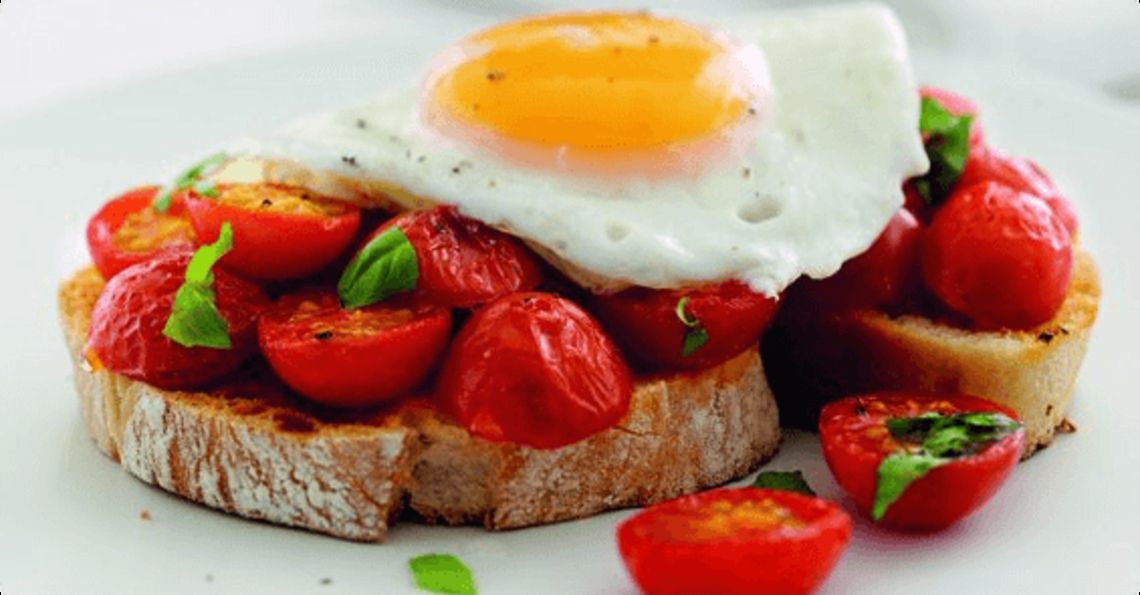 Serves: 1
Prep: 5 mins
Cook: 10 mins
This easy post-exercise meal is a good way of getting carbohydrate, protein, fibre and vitamins all in one. The combination of carbohydrate (from the bread) and protein (from the egg) help refuel and repair muscles rapidly. The tomatoes are particularly good for athletes due to their high content of antioxidant nutrients (beta-carotene, vitamin C, lycopene), which also promote recovery. Olive oil in this recipe adds monounsaturated fats, which boost oxygen delivery.
Ingredients
2 thick slices (50g)
Ciabatta bread
1 tablespoon/ 15ml olive oil plus a little extra for brushing
1 garlic clove, crushed
6 cherry tomatoes
Salt and freshly ground black pepper
1 large British Lion egg
Fresh basil leaves
Method
Pre-heat the grill to high. Put the bread on a baking sheet, grill for 1 minute on one side only or until lightly toasted. Turn the bread, brush the untoasted side with the olive oil and rub in the garlic.
Slice the cherry tomatoes in half and arrange on the toasted bread, season and place under the grill for 2 minutes. Transfer to a plate and scatter over the basil leaves.
Brush a non-stick frying pan with a little olive oil. Heat the pan over a medium heat. Break the egg into the pan, cover and cook until the white is completely set and the yolk is beginning to thicken around the edges, about 4 – 6 minutes.
Serve immediately with the tomato crostini.
Nutritional information, per serving:

| Calories | Protein | Fat | Saturates | Salt |
| --- | --- | --- | --- | --- |
| 342 | 12.9g | 19.6g | 3.6g | 0.7g |
Click on the stars to rate this recipe: