Bubble and squeak patties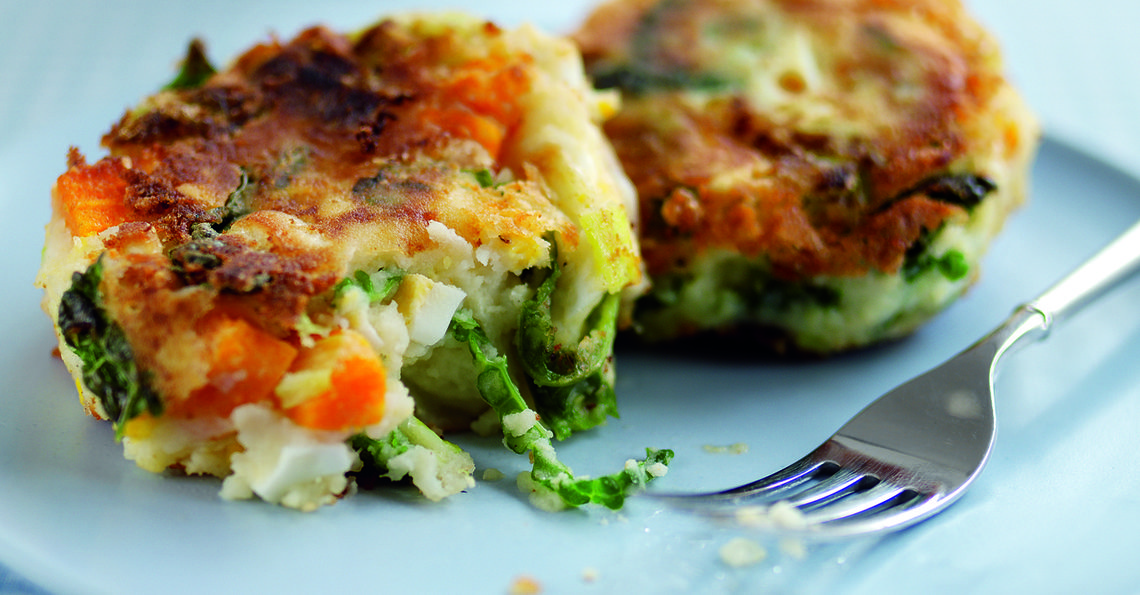 Serves: 4
Prep: 15 mins
Cook: 10 mins
These bubble and squeak patties are a great way of using up left over veg - any will do. If you haven't got mash you could use frozen, or of course start from scratch with some potatoes - you'll need to peel about 600g to get 450g cooked weight. How to make bubble and squeak? Follow our recipe!
Ingredients
5 large British Lion eggs
450g/1lb mashed potato
225g/8oz cooked vegetables such as carrots, cabbage, leeks etc
Salt and freshly ground black pepper
60g/4tbsp plain flour
90ml/6tbsp vegetable oil for frying
Method
Place four of the eggs in a medium pan, cover with water and bring to the boil. Simmer for 7mins. Drain the eggs, then rinse in cold water. Tap the shells all over and peel away. Roughly chop the eggs.
Place the potato and vegetables in a large bowl with the chopped eggs and seasoning. Beat the remaining egg, add to the potatoes and mix well. Divide and shape the mixture into 8 small or 4 large cakes, dusting them lightly with flour as you go.
Heat the oil in a large non-stick frying pan, add the cakes and cook for 8-10mins turning over half way through until they are golden brown on both sides. Lift from the pan with a spatula, draining on kitchen paper then serve hot.
Cooks tips
Can you freeze bubble and squeak?
Yes, bubble and squeak can be frozen.
How to make bubble and squeak stick together?
The beaten egg in the ingredients should prevent the bubble and squeak from falling apart.
As our method states: "Beat the remaining egg, add to the potatoes and mix well."
What to have with bubble and squeak?
The patties are delicious served with grilled bacon and tomato ketchup.
Click on the stars to rate this recipe:
More bubble and squeak recipes