Thai pork omelette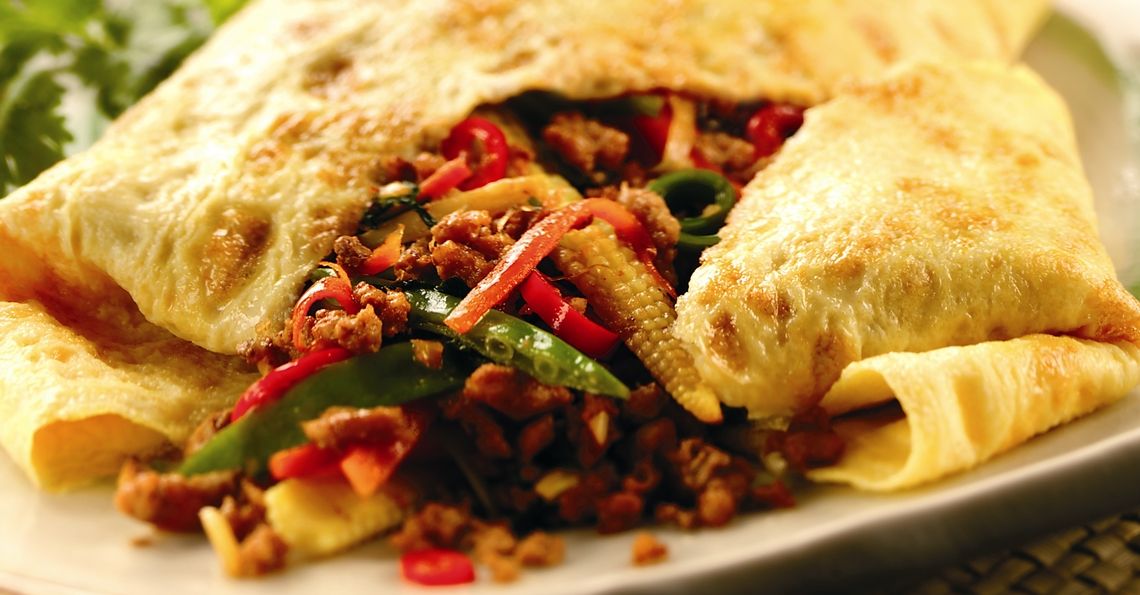 Serves: 4
Prep: 5 mins
Cook: 10 mins
Flex your South East Asian taste buds and try this Thai delight that combines the rich flavours of succulent pork infused with sweet mint and crunchy bean sprouts - all topped with the aromatic flavour of dill and only 247kcals. Perfect for a family dinner.
Ingredients
45ml/3 tbsp vegetable oil
1 clove garlic, crushed
100g/4oz minced pork
freshly ground pepper
2 spring onions, trimmed and chopped
25g/1oz bean sprouts
15ml/1 tbsp fish stock
10ml/2 tsp sugar
100g/4oz onion, finely chopped
1 medium tomato, chopped
4 large British Lion eggs, beaten
Tomato rose, cucumber leaves and fresh dill to garnish
Method
In a saucepan, heat 30ml/2 tbsp of the oil. Add the minced pork, pepper, stock, sugar, onion and tomato and continue to stir fry for 5-10 minutes until all the ingredients are cooked and well blended.
Heat the remaining oil in a large frying pan or omelette pan and tilt so that the oil coats the entire surface of the pan. Pour away the excess oil.
Pour in the beaten eggs and swirl around the inside of the pan to form a thin skin.
Place the filling in the middle of the omelette. Fold over the sides to make a neat parcel.
Turn out on to a serving dish folded side down, garnish and serve.
Click on the stars to rate this recipe: