Chinese vegetable omelette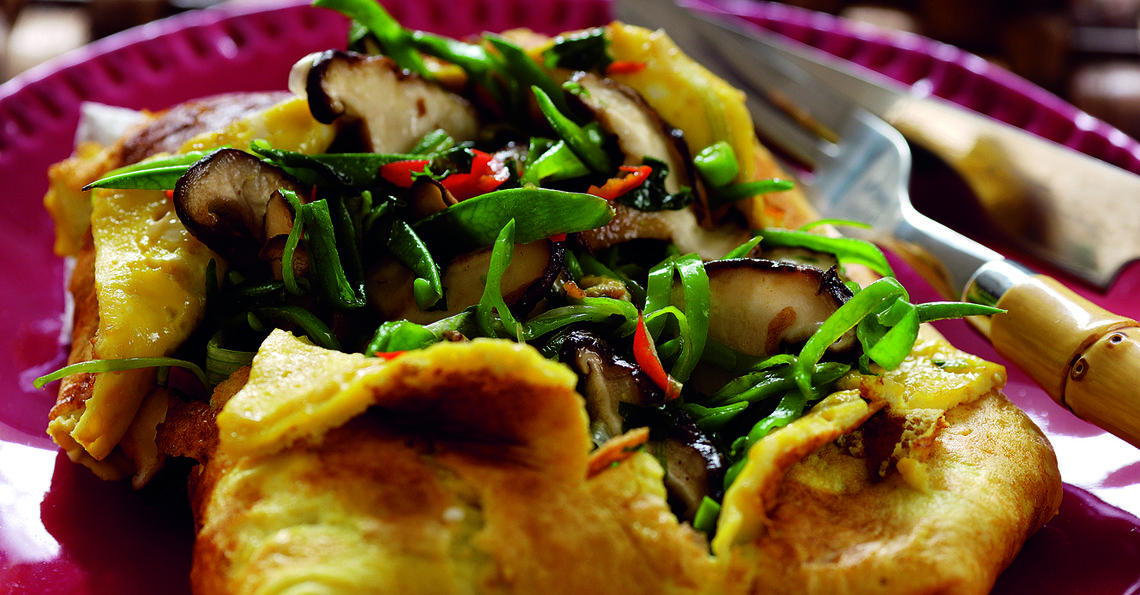 Serves: 1
Prep: 5 mins
Cook: 5 mins
Try this tasty traditional Chinese dish, filled with delicious hearty Asian vegetables, including mange tout and succulent mushrooms. Add a dash of chilli for a touch of heat together with the earthy sweet flavours of Oyster sauce mixed with coriander. 
Ingredients
2 tsp vegetable oil
2 large British Lion eggs
1/2 tsp caster sugar
2 spring onions trimmed and shredded
50g mangetout, shredded
25g shiitake mushrooms, shredded
Half a red chilli, sliced
1 tbsp chopped fresh coriander
1 tbsp oyster sauce
Salt and freshly ground black pepper
Method
Heat half the oil in a frying pan, beat the eggs with the sugar, 1 tbsp water, and seasoning. Pour into the hot pan and cook over a medium heat, stirring with a spatula to move the cooked egg into the centre, until no runny egg remains. Cook for 1 more minute then carefully transfer to a warm plate.
Add the remaining oil to the pan, add the onions, mangetout, mushrooms and chilli and stir fry for 2 minutes or until tender. Stir in the coriander and oyster sauce and remove from the heat.
Scatter the vegetables into the centre of the omelette, fold over the sides to enclose and make a parcel then serve seam side down on a plate. Make a cross in the top of the omelette and open up to reveal the filling. Serve hot.
Click on the stars to rate this recipe: