Egg decorating ideas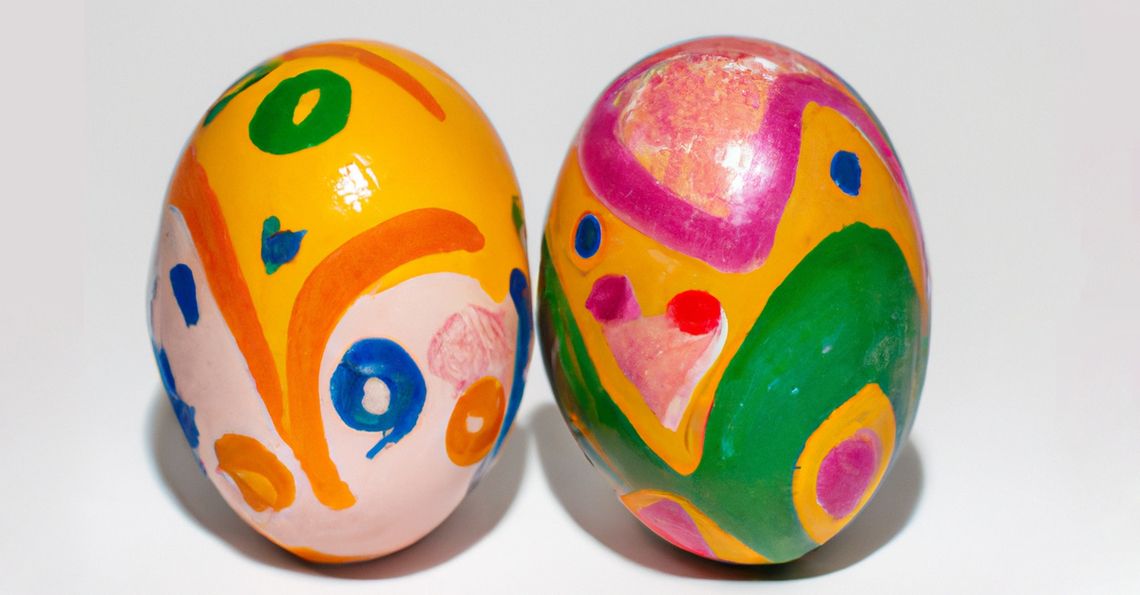 The custom of exchanging decorated Easter eggs dates back hundreds of years. Continue the tradition with our egg painting guide.
Egg painting is a fun family activity that encompasses creativity, skill-building and quality time shared between generations. This custom can also be a part of other celebrations - such as Easter egg hunts – where children eagerly seek out hidden painted eggs.
Serves: 1
Prep: 5 mins
Cook: 4 mins
Items you will need
One large British Lion egg
A mixture of water and vinegar for cleaning
Paint
How to decorate eggs
1. Decide on whether you want to eat your egg after you have painted it, or use it as decoration. If you want to keep it, you should hollow out the egg first.
2. To hollow out your egg, hold it over a bowl and poke small holes on each sides of the egg. Move the pin inside the egg to gently break the yolk.
3. When the egg has drained, rinse the inside thoroughly, using a mixture of water and vinegar.
4. Let dry for a few hours.
5. Paint your eggs any way you like!
Egg decorating tips
If you are using blown eggs, use a skewer or set the egg on a candle holder to ensure you can rotate it easily when painting.
Let one side dry before you finish the other!
Nutrition
Nutrients in a single boiled egg:
| Calories | Protein | Fat | Saturates | Salt |
| --- | --- | --- | --- | --- |
| 78 | 7.5g | 5.4g | 1.5g | 0.2g |
More egg decorating ideas
Explore an array of egg decorating ideas to spark your imagination and create unique, eye-catching designs. From simple illustrations to intricate patterns, there's something for everyone!

Marker pens can be used to draw comic faces on eggs. The eggs can be topped with with "cress hair". See our guide to painted boiled eggs.
Creative no dye egg designs
Experiment with no dye egg decorating methods using natural materials like leaves, flowers, or lace as stencils when painting your eggs. This approach leads to unique egg decorating ideas that will make your creations stand out from the rest.
Family-friendly egg decorating techniques
Choose kid-friendly egg decorating ideas, such as using stickers or temporary tattoos as decorations on British Lion eggs. These engaging methods allow children to participate in the fun while also making adorable painted eggs designs.
Traditional and modern homemade Easter decorations
Delve into traditional art forms like Pysanky – a Ukrainian beeswax-resist method used for creating intricate designs on eggshells – or try modern approaches like decoupage with decorative paper cut-outs glued onto the surface of the eggs.
Natural dyed eggs: A colourful twist
For those seeking an eco-friendly alternative, explore natural dyed eggs by boiling British Lion eggs alongside ingredients such as onion skins, beetroot juice, or turmeric powder for earthy-toned coloured creations reminiscent of historical origins.
Stencils and stickers: Customised creations
Personalise your egg decorations with stencils and stickers featuring floral motifs, geometric shapes or even monograms. This technique allows for intricate patterns without requiring advanced artistic skills, making it perfect for all ages.
Fabergé-inspired eggs: Luxurious masterpieces
Draw inspiration from the opulent treasures crafted by Russian jeweller Peter Carl Fabergé, adorned with precious metals and gemstones. Use metallic paint, gold leaf or rhinestones to create your own luxurious masterpiece showcasing exquisite craftsmanship.
Remember always to use British Lion Eggs in all your egg-related activities for guaranteed quality and safety standards. Enjoy experimenting with these egg decorating ideas and let your creativity run wild!
Fun egg recipes for kids of all ages